AC Coupled Off-Grid System
What it is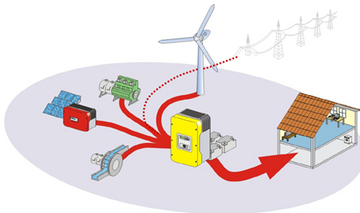 This type of Off-Grid system are ideal for bigger properties where power requirements are higher and have many advantages:
All energy sources and loads are connected on the same AC line.
Large distances between system components are possible.
Standard readily available equipment and appliances are used.
Less specialist Off-Grid knowledge is required for installation - everything can be done by experienced grid connect solar installers and electricians.
Systems are modular and easily expandable as needs change.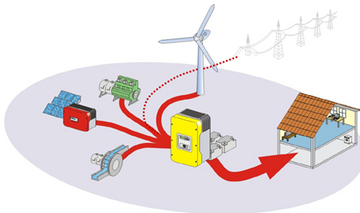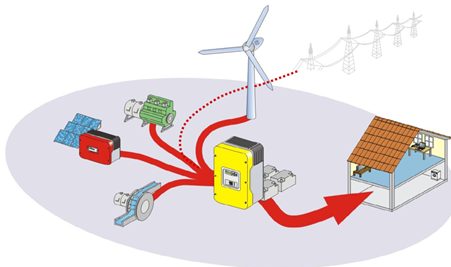 How it works
These systems use bi-directional inverter/chargers to give perfect sine wave off-grid electricity with high efficiency, robust power and outstanding reliability.
Very simple and flexible design of off-grid systems is possible since different electrical generators and loads can be connected on the AC side (using Sunny Boy inverters).
Using this system wind & solar generation can be sited at the most appropriate locations and connected directly to the AC network.
A centralised battery and inverter system is employed yet several different properties or loads can be easily accommodated.
Power from any generators is first supplied to the loads and any surplus goes into battery charging. If loads increase, power is taken out of the batteries.
Depending upon the current balance of consumed and generated power the battery is discharged in order to support the loads or charged with any surplus.
If battery becomes low a back-up diesel generator set can be controlled to charge the battery.
The inverter charger effectively creates a 'mini-grid' for your property.
Generation
Solar PV panels or other generation sources are connected to the system as if it was a grid connect system. This is the most efficient method of connecting the generation, as it allows the generation to first power loads and additional power will charge the batteries. Alternatively generation sources can be connected directly to the battery but in order to power loads the energy must pass through the battery incurring a large loss of energy.
What it can power
This sort of system could comfortably power everything you would expect in a standard house, office or small industrial unit.
A centralised battery and inverter system is employed yet several different properties or loads can be easily accommodated.
With high continuous and surge power capability they will comfortably energise most households and a mixture of appliances.
Different sizes of inverter chargers can be chosen to meet your requirements, several can be used in parallel for bigger applications or multiples of three can be used for three phase. For more than one set of three please see Minigrid Off-Grid Systems.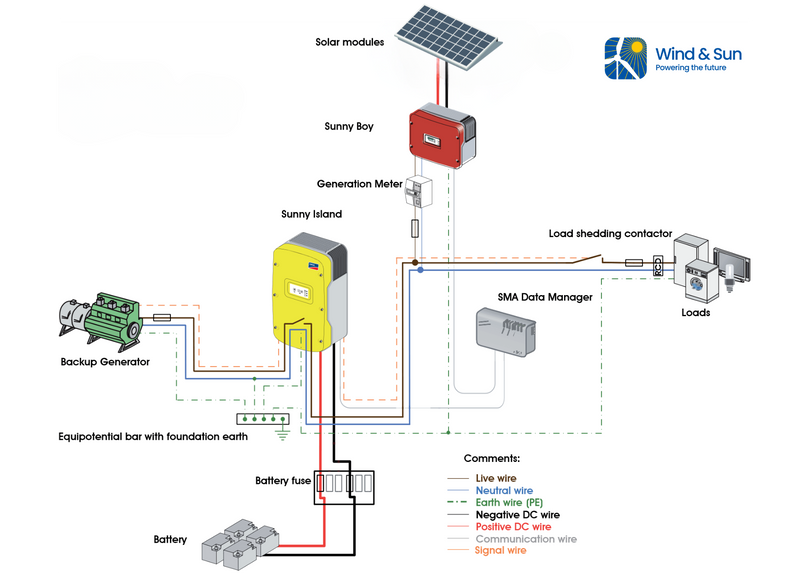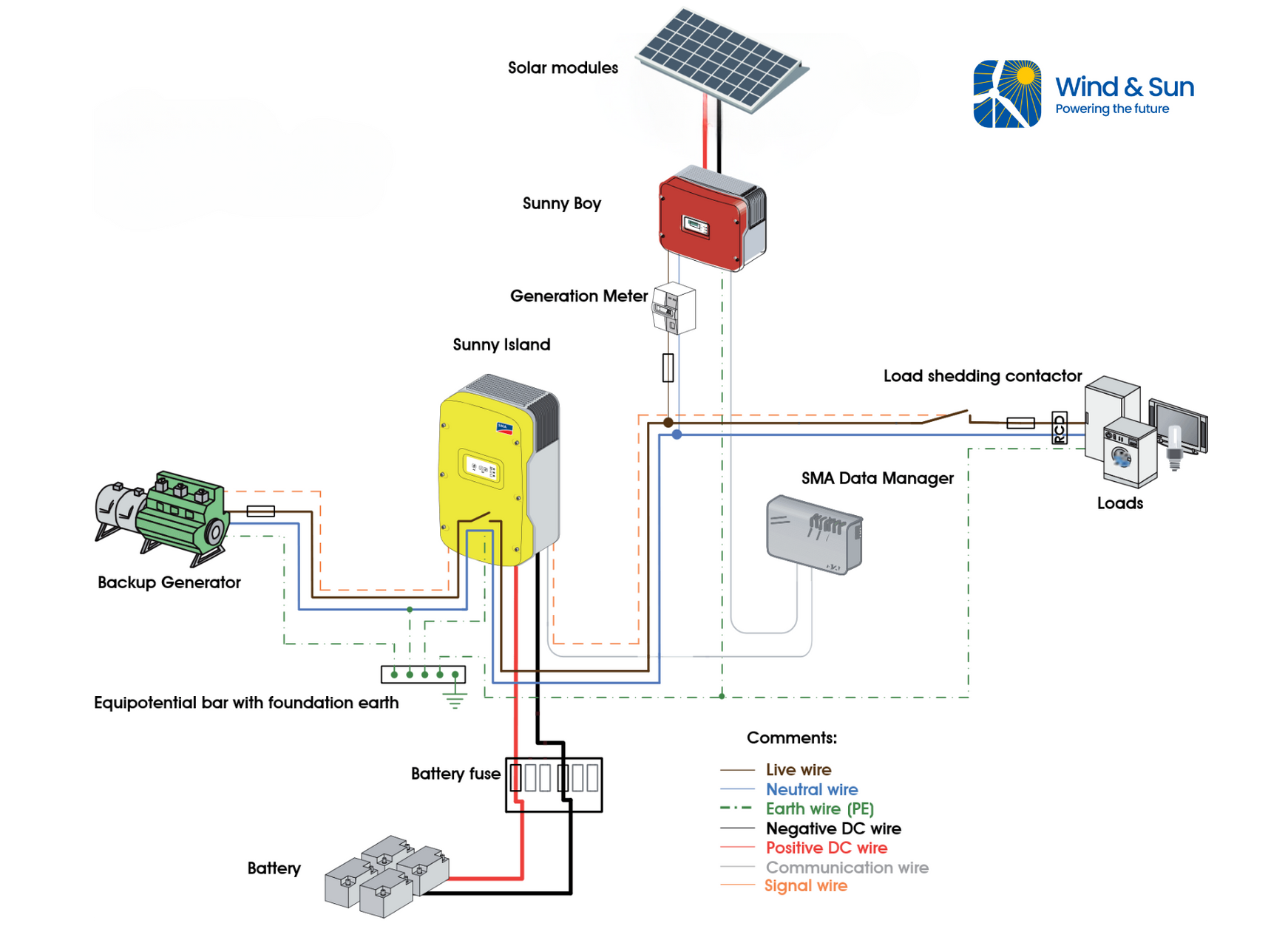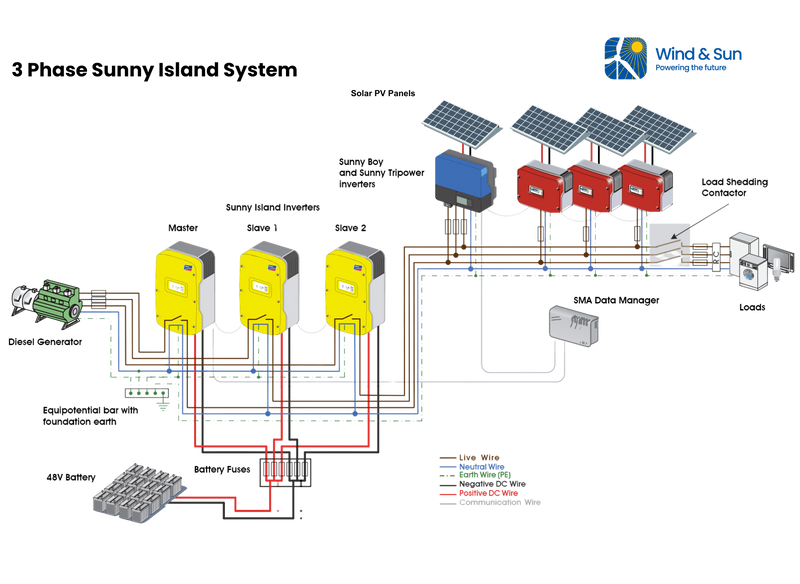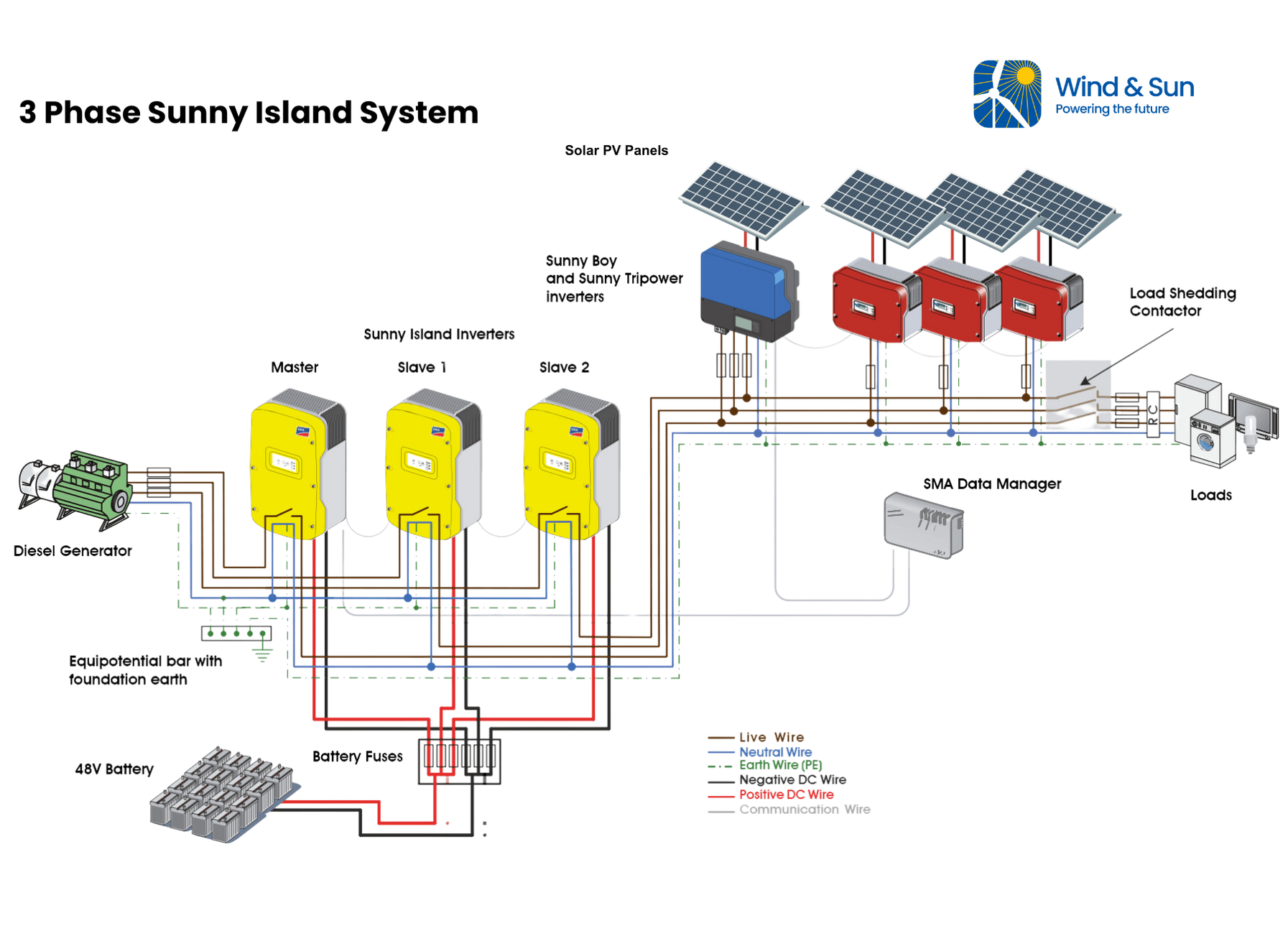 What's in the system
Solar PV panels
DC solar cable & connectors
DC isolator
Solar PV inverter
AC isolator
Normal AC cable
kWh generation meter
Diesel generator
Inverter charger
Battery cables
Battery fuse
Batteries
Distribution board
AC circuitry
What next
AC Off-Grid systems require the involvement of a professional electrician to ensure a safe and compliant installation.
We work with a large network of installers, many of whom we have known for a long time and who have received training at Wind & Sun so we can usually recommend an good local installer to you who can help.