Development of 'Windy Boy' Inverter
'Windy Boy' Inverter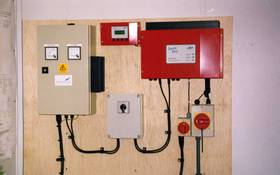 First developed in Germany for use with PV systems, Wind & Sun introduced the first string inverters to the UK see West Wales Eco Centre. Following this, 'G77' type approval and testing was developed with and adopted by the UK regional electricity companies to simplify connection procedures for grid connection of photovoltaic systems.
The 'Windy Boy' inverter used here with the wind turbine was a new development by Wind and Sun (based on experiences at the York Eco-Centre) adapting this technology for use with wind power and resulted from us approaching SMA to develop special inverter firmware to suit a wind turbine power curve for their 2.5kW Sunny Boy inverter, together with Proven Energy making a version of their 2.5kW wind turbine with higher output voltage to suit the 300V DC input requirements of the new inverter.
The first of these were installed by us at sites in Yorkshire during 1998.
A commissioning procedure was developed by Wind & Sun with Yorkshire Electricity to address the concerns of their engineers and allow them to accept the wind turbine connection following the G77 grid connection guidelines. The new 'Windy Boy' system means that small-scale wind power is now a viable option for many more properties.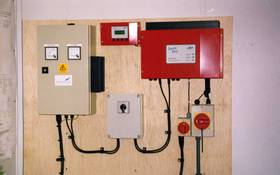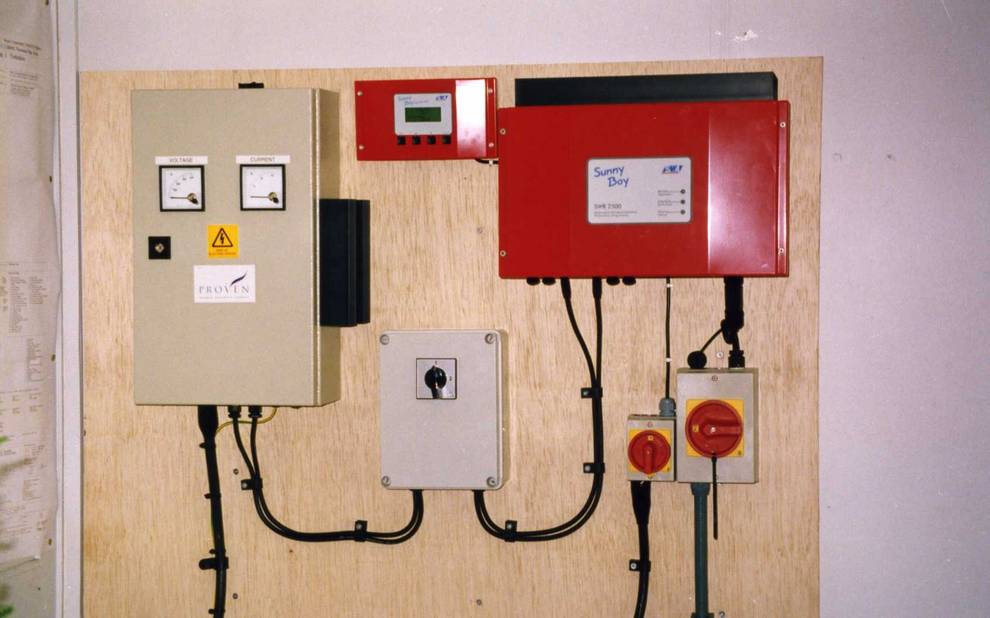 Park Lane College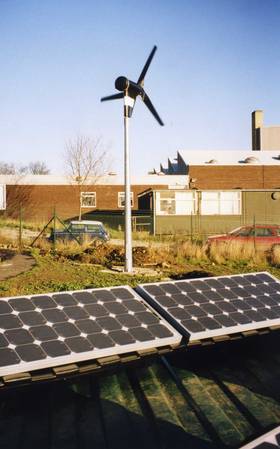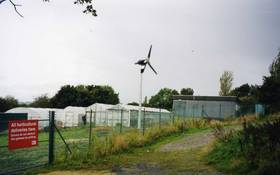 The first of these was installed at Park Lane Horticultural College near Leeds. ** 750Wp Photovoltaic Array** Consisting of an array of 10 BP Solar 275F monocrystalline PV modules connected in series and mounted on a Console plastic bin specially designed for flat roof mounting. Concrete ballast is placed in the bin for stability.The output of the PV array feeds a SMA Sunny Boy SWR-700 inverter.
2.5 kw Wind Turbine The 2.5kW Proven wind turbine has a rotor diameter of 3.5m and is mounted on an 6.5m self-supporting tower and produces power at a voltage of ~ 250VDC which is fed to a WWR-2500 Windy Boy inverter. This inverter was developed by Wind & Sun with SMA to suit the operating characteristics of the wind turbine. The inverters convert the generated DC power directly into 230 Vac.
The AC outputs of both inverters are then paralleled together, synchronise with the grid supply and supply power to the college's load circuits or export power to the grid as appropriate. Each inverter contains protection circuitry to shut down the system in the event of grid failure or variation of grid power quality outside statutory limits.
A Sunny Control unit is included for displaying output and recording performance data. Developing witness tests for commissioning with Yorkshire Electricity.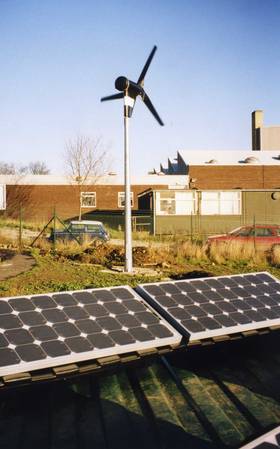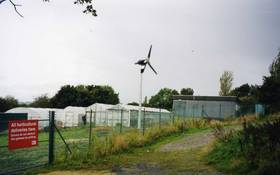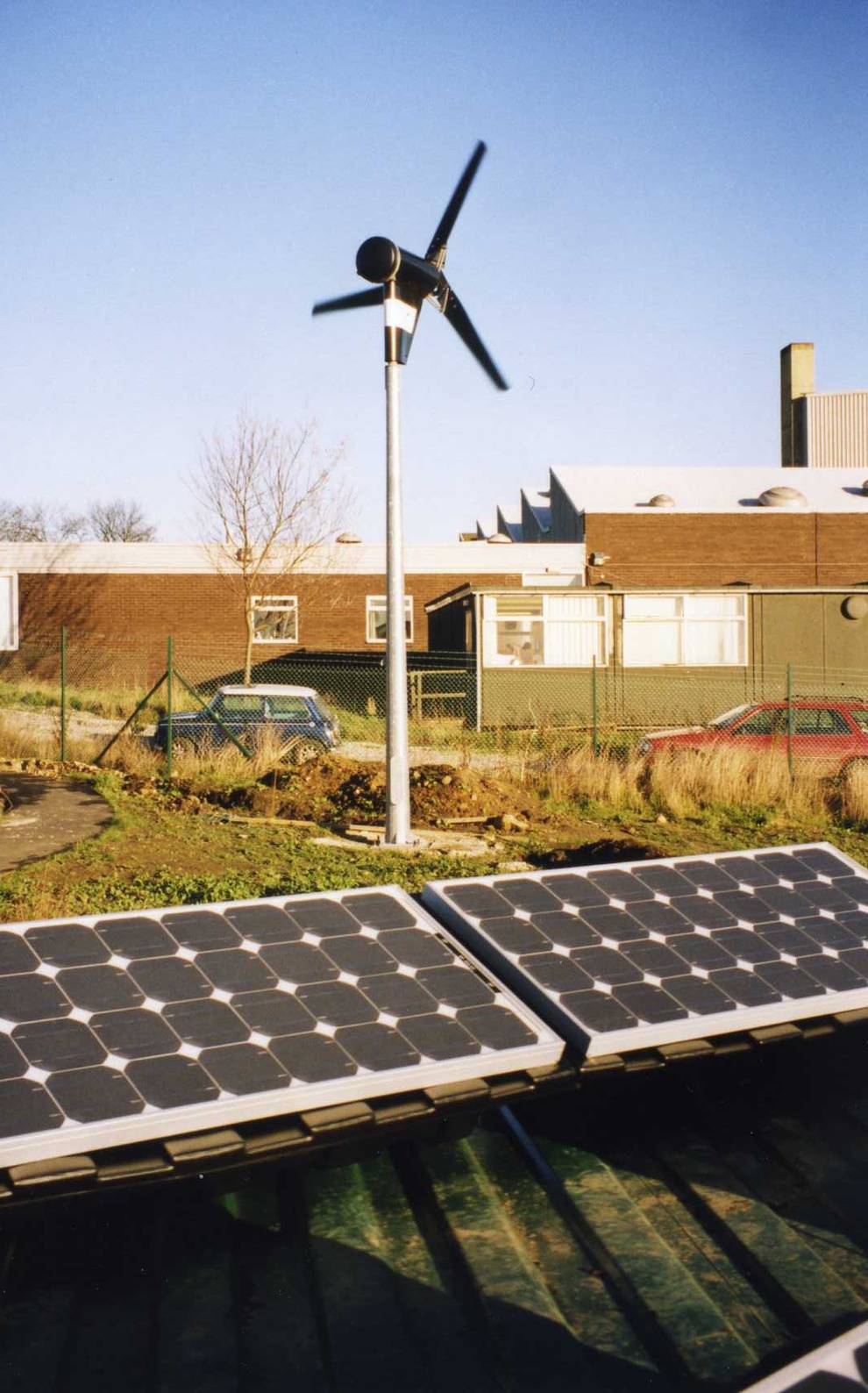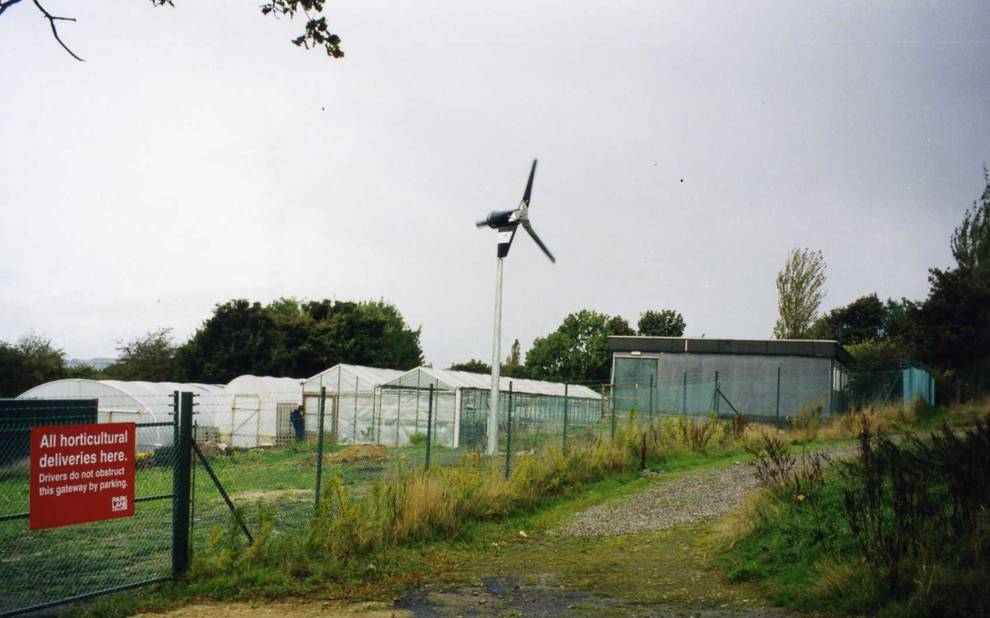 Heeley City Farm Sheffield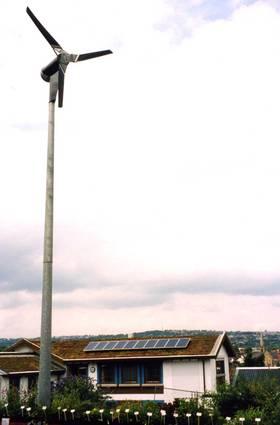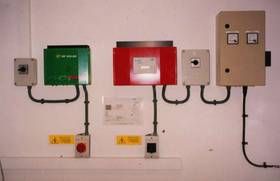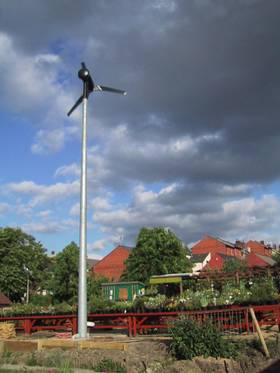 Heeley City Farm is a community based and led training, employment and youth project employing over 30 people, mostly previously unemployed, on a range of environmentally based enterprises.
A new building was designed and built as a training and resource centre by EcoArch which demonstrates a model of contemporary, bio-climatic environmental architecture within an urban context. It was conceived as an integrated eco system within the boundaries of the site and aims to be self-reliant in terms of its service supply systems.
The building is a low energy, high thermal mass, passive solar design powered by renewable energy from photovoltaics and a wind turbine. The need for space heating was reduced to a minimum. Energy design for the building was by LEDA.
The new buildings and Proven wind turbine are integrated within the existing network of buildings on the site. The south roof hosts an Erisco Bauder living sedum green roof system and the photovoltaic electric panels.
The 0.64kWp Photovoltaic Solar Array consists of 10 Unisolar US-64 64Wp photovoltaic modules.
These modules were chosen because they do not use glass in their construction and there were concerns about risks of damage from vandalism if more conventional glass-covered PV's were used.
The modules are mounted on a framework above roof, the area beneath the modules being left free of turf. Output and interface with the grid is via an SMA 700W Sunny Boy inverter – this could accommodate more modules, but budgetary constraints restricted the PV system to 10 modules.
The 2.5kW Wind Turbine is mounted on an 11m self-supporting tower and is sited nearby to the new building on higher ground to receive good exposure to the wind. It produces power at ~ 250VDC which is fed to a special version SMA 2.5kW 'Windy Boy' inverter. The wind turbine has good low wind characteristics whilst being protected against strong winds and should give reasonable yield despite the urban nature of the Sheffield site.
The grid connected inverters convert DC power generated directly into 230V AC synchronised with the mains grid supply. As the inverters are paralleled with the mains they either supply power to the building's load circuits or export power to the grid as appropriate.
Each of the inverters contains protective circuitry to shut down the systems in the event of power failure or variation of grid power quality outside of statutory limits. System design was by Wind & Sun.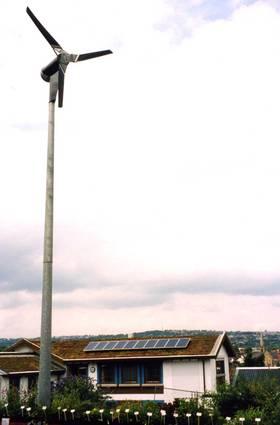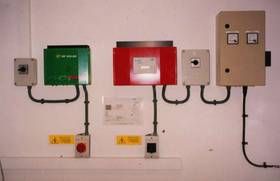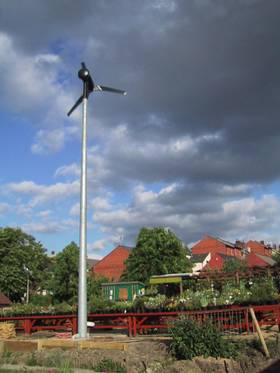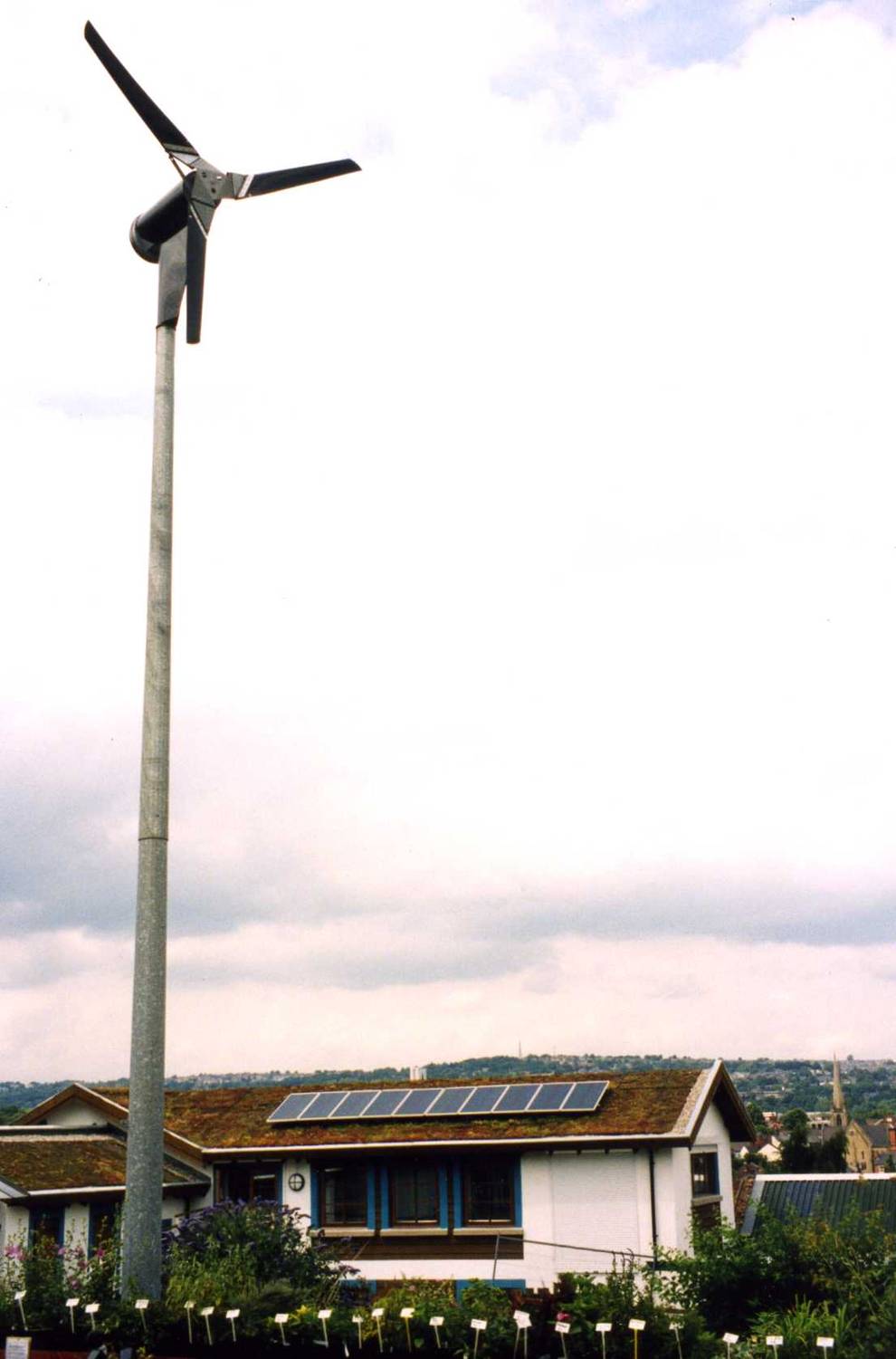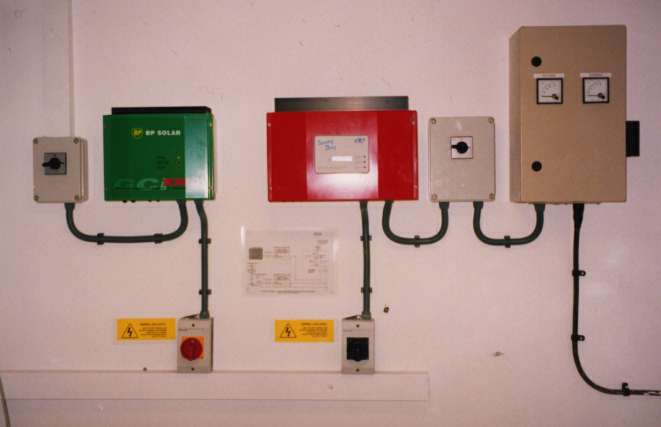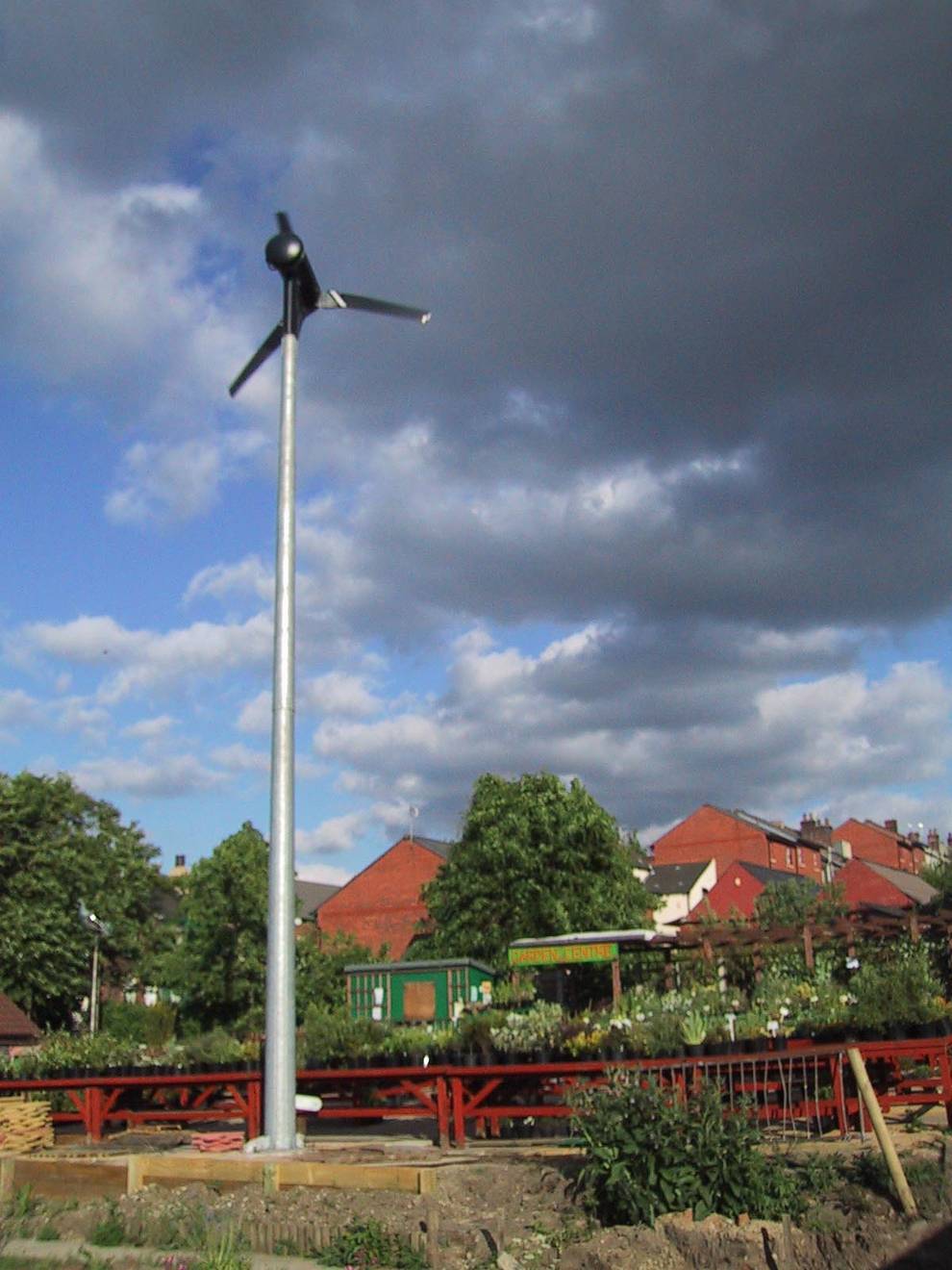 Update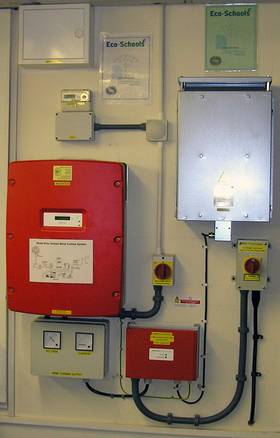 Following on from this, Wind & Sun continued working with SMA in Germany and with various wind turbine manufacturers on further development of the 'Windy Boy'. For many years we acted as specialist distributors for these and supplied these wind inverters worldwide. In particular these were used with Proven/Kingspan (now SD wind) and Iskra/Evance (now Britwind) wind turbines and hundreds are still in operation today. We ourselves, have incorporated them on several island electrification projects, where the benefits of hybrid generation can be huge. See Island Installations
Unfortunately, despite their success, due to commercial pressures and a need to rationalise their product offering SMA stopped manufacturing the'Windy Boy' inverters in 2013 and we have yet to find a good alternative replacement.