Wind & Sun bring sustainable 24 hour electricity to the Isles of Canna and Sanday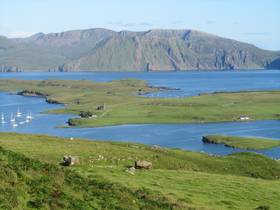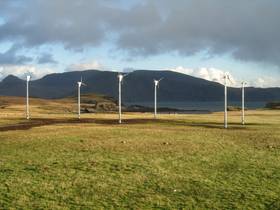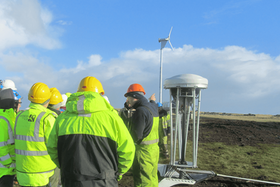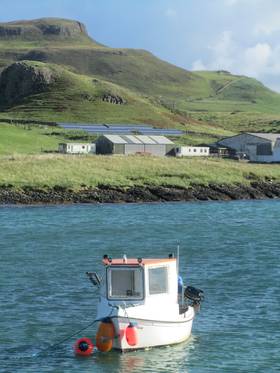 Residents of the islands of Canna and Sanday, off the west coast of Scotland, have ditched their diesel power generators in favour of a new community-owned renewable electricity system based on solar PV, wind, and battery storage technologies in a bid to cut fuel usage and costs.
Canna is the westernmost of the Small Isles archipelago, in the Scottish Inner Hebrides approximately 25 miles from . It is linked to the neighbouring island of Sanday by a road bridge and sandbanks at low tide. The island is 4.3 miles (6.9 km) long and 1 mile (1.6 km) wide.
The islands were gifted to the National Trust for Scotland (NTS in 1981, by its then owner John Lorne Campbell and his wife, Margaret Fay Shaw, and is still run as a farm with a traditional Hebridean community, as John Campbell requested.
Canna has been designated a Special Protection Area under the EU Birds Directive, for its large population of breeding sea birds, and is covered ​by the Small Isles National Scenic Area designation. The island also boasts a number of scheduled ancient monuments, listed buildings and sites of historical and archaeological importance.
Canna is not connected to the National Grid and power was supplied by diesel generators, but these were expensive to run and difficult to maintain.
In 2014 Wind & Sun were commissioned to produce an update to this based on the successful system we had recently installed on the Isle of Muck. After planning permission and funding was secured work started in early 2018.
Funding:
The venture secured over £983,000 from the Big Lottery Fund and £150,000 from the Scottish Government, on top of an additional £100,000 from the SSE Highland Sustainable Development Fund. £50,000 each was also provided by Highlands and Islands Enterprise and the National Trust for Scotland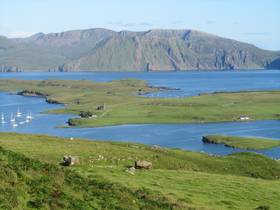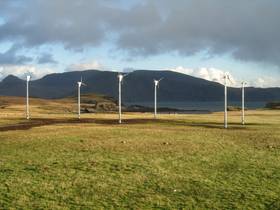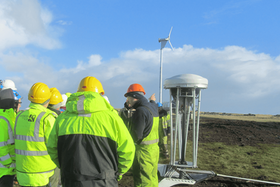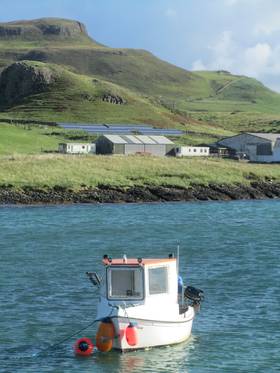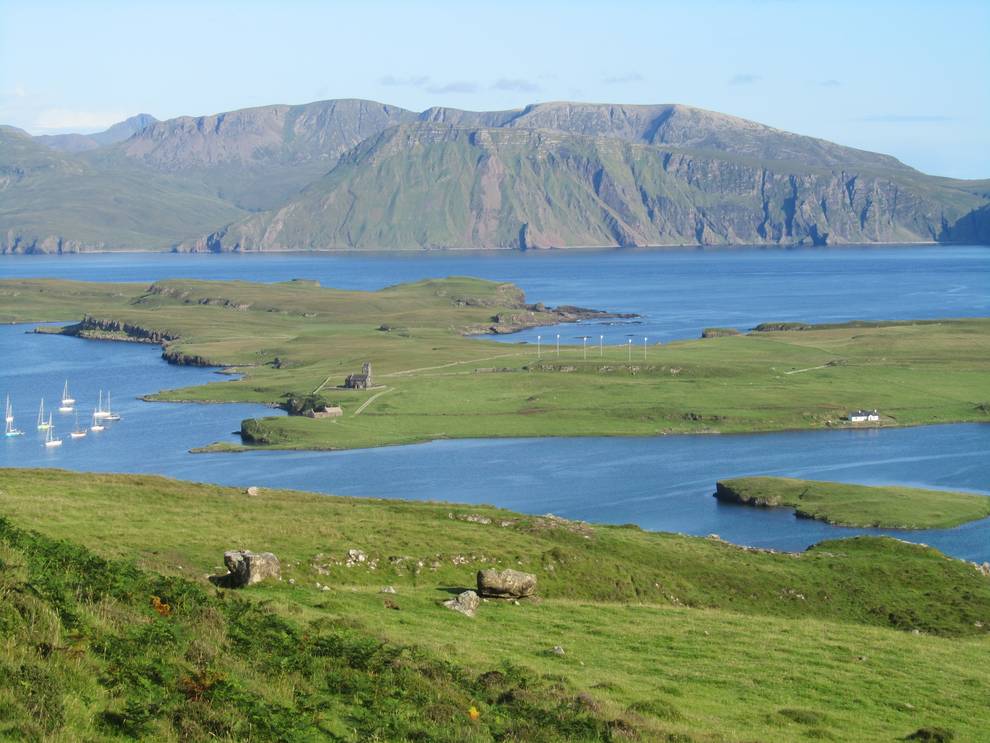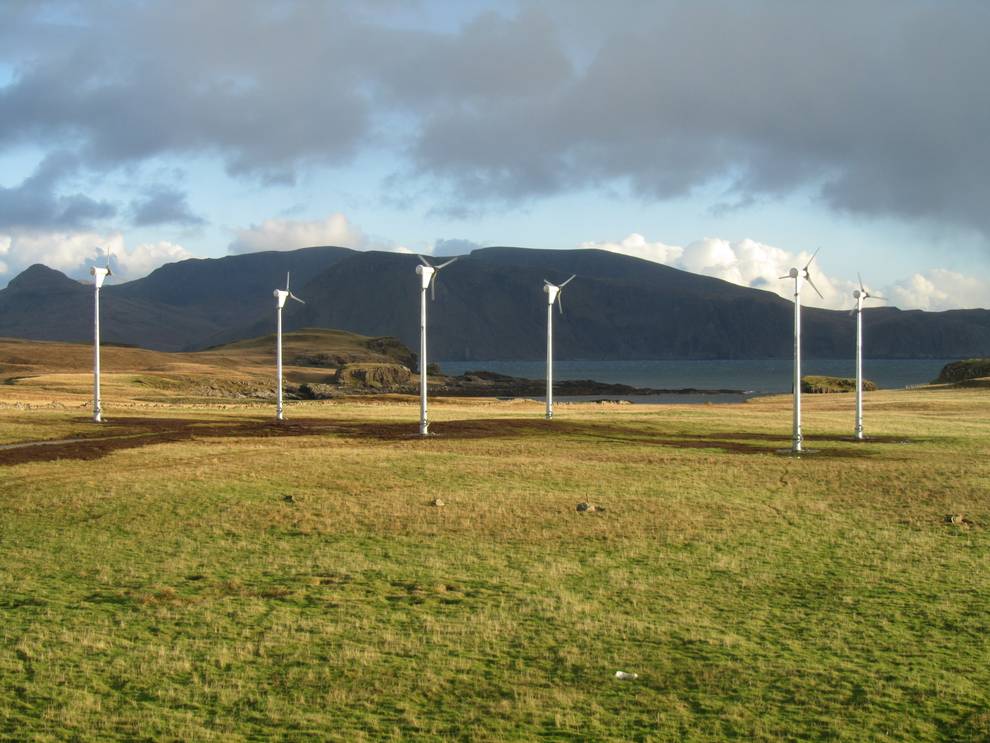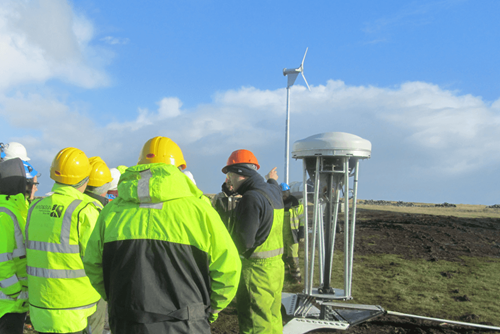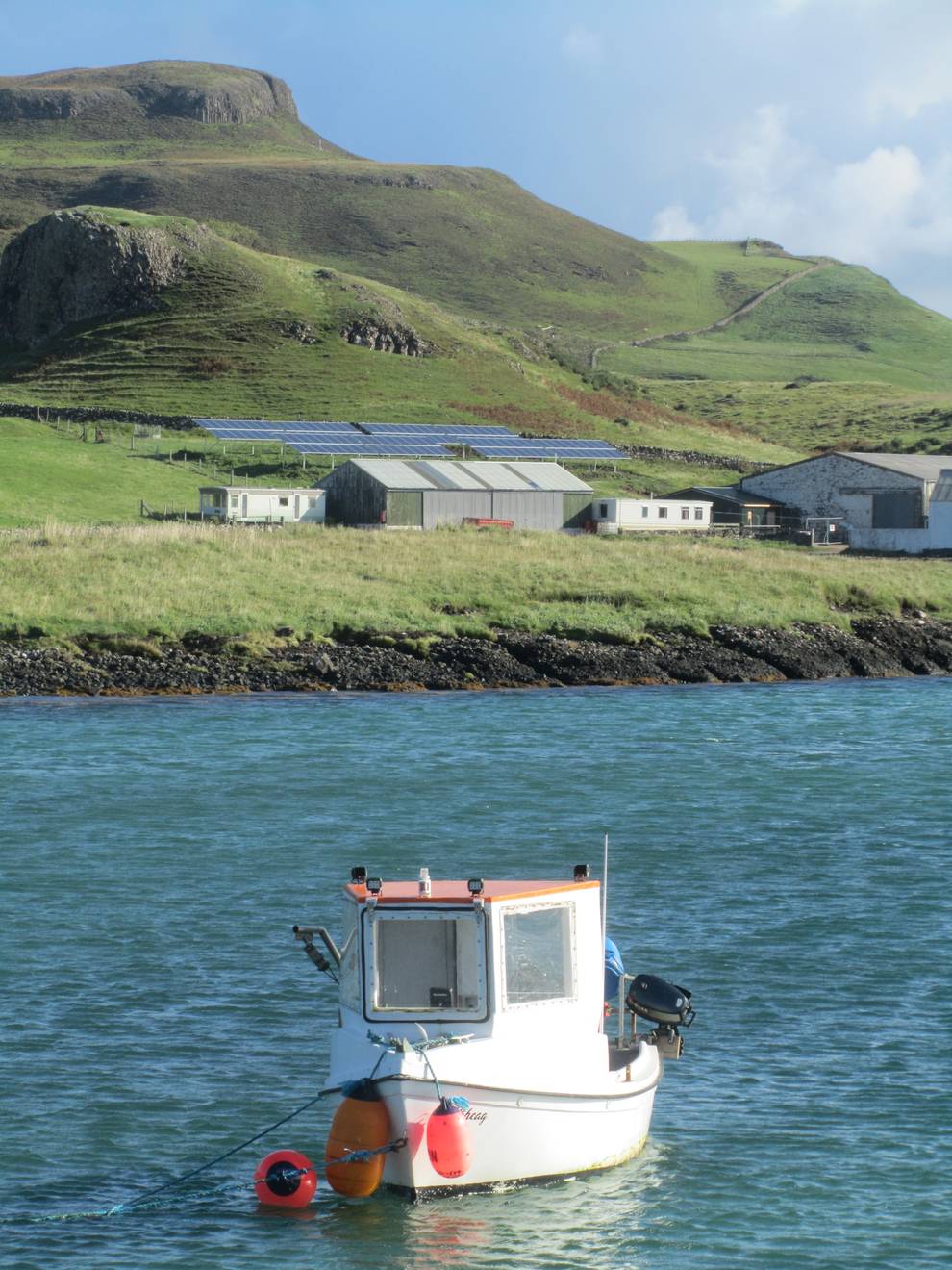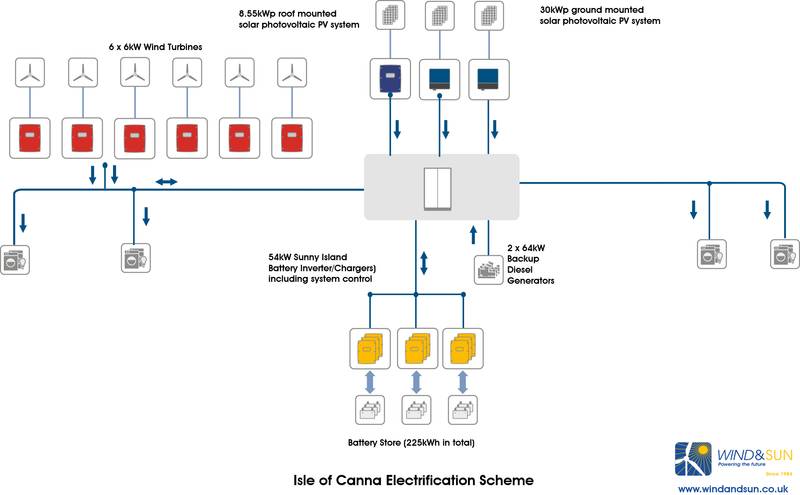 Installation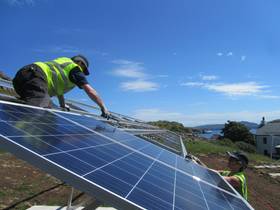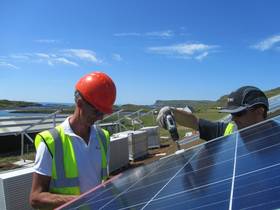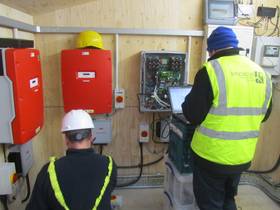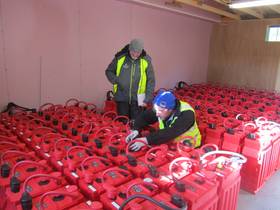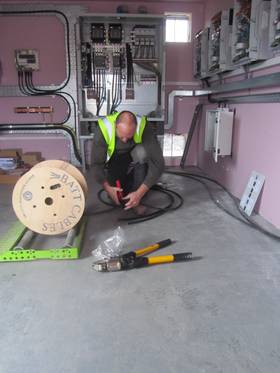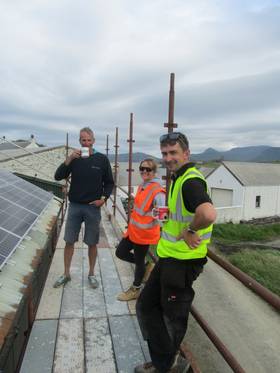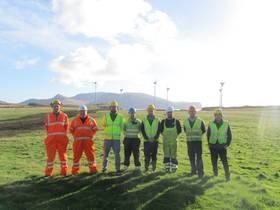 Wind & Sun had been involved in helping develop the system over the last five years after residents from Canna visited our previous pioneering work on the neighbouring Isles of Eigg and Muck.
After shipping equipment from the mainland, Wind & Sun carried out the installation during several trips over the summer fitting the 225kWh battery store, 54kW inverter system and 30kWp PV array, helped by our good friends Gordon & Jaine from Solar Kinetics and Nick from Pro-Fit Energy in Hereford. Finally six 6kW wind turbines were erected by SD Wind Turbines and connected up.
Wind & Sun then commissioned the system and on October 24th 2018 it was switched on!
The solar PV's and wind turbines generate power for the island and charge the batteries. As batteries became full the frequency of the grid rises and this is used to automatically switch on heating loads located in community buildings to take advantage of windy weather using a number of frequency controlled switches.
In the event of insufficient renewable energy the back-up generator powers the island properties and re-charges the batteries. It is expected that this will be now needed less than 10% of the time.
The community has established its own enterprise - Canna Renewable Energy and Electrification Ltd (CREEL) - to own and operate the new equipment. Electricity will be provided to residents after which profits from the power generated will be used to cover operation and maintenance costs, and reduce bills for local homes and businesses
Wind & Sun have trained a local team to look after the scheme and will be providing ongoing support to the islanders, monitoring performance and adjusting critical operating parameters remotely if required.
CREEL director Geraldine MacKinnon said the community energy project had been a long standing ambition for islanders.
"The island is exposed to the full force of Atlantic gales and we can finally start to put that to good use," she said. "As well as reducing the noise and pollution from the generators the new scheme will give us the capacity to build additional houses here, so that we can increase the number of people who can make their home on this beautiful island. We're very grateful to all of our funders for their support in this vital project
Performance
In the first year since the system was commissioned (October 2018):
Total generation was 138,724kWh, of which 93% was renewable
Diesel usage was around 2500 litres, a 94% reduction, saving 100.9 tonnes of carbon dioxide
The generators ran just 32 times overall, for a total of about 170 hours – less than 3 times per month on average - instead of the continuous 24/7previously!
The Team:
Wind & Sun designed the system and installed the solar PV arrays, battery store, battery inverter/chargers, wind turbine inverters and control gear (helped by our good friends from Solar Kinetics and Pro-Fit Energy, then commissioned the system enabling all components of the system to integrate together.
SSE Contracting oversaw the project as main contractors and carried out works including, installing control panel and new diesel generator; upgrading the island electrical network; and connecting up new heating loads.
SD Wind Energy manufactured and erected the six 6kW wind turbines.
Civil contractors CHAP constructed foundations, power control building and turbine control building.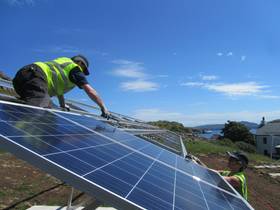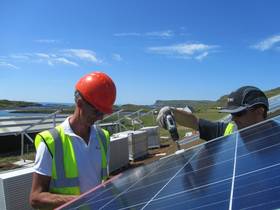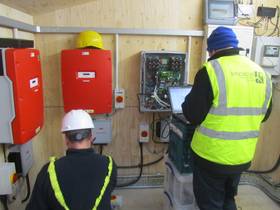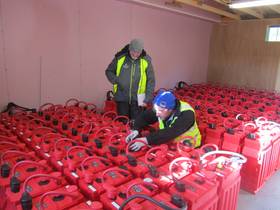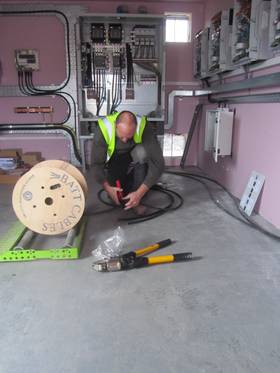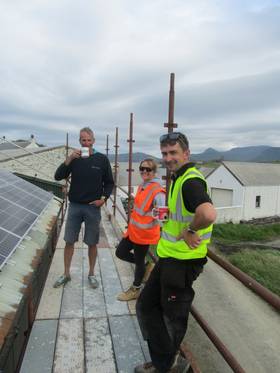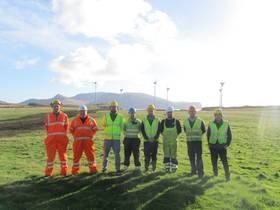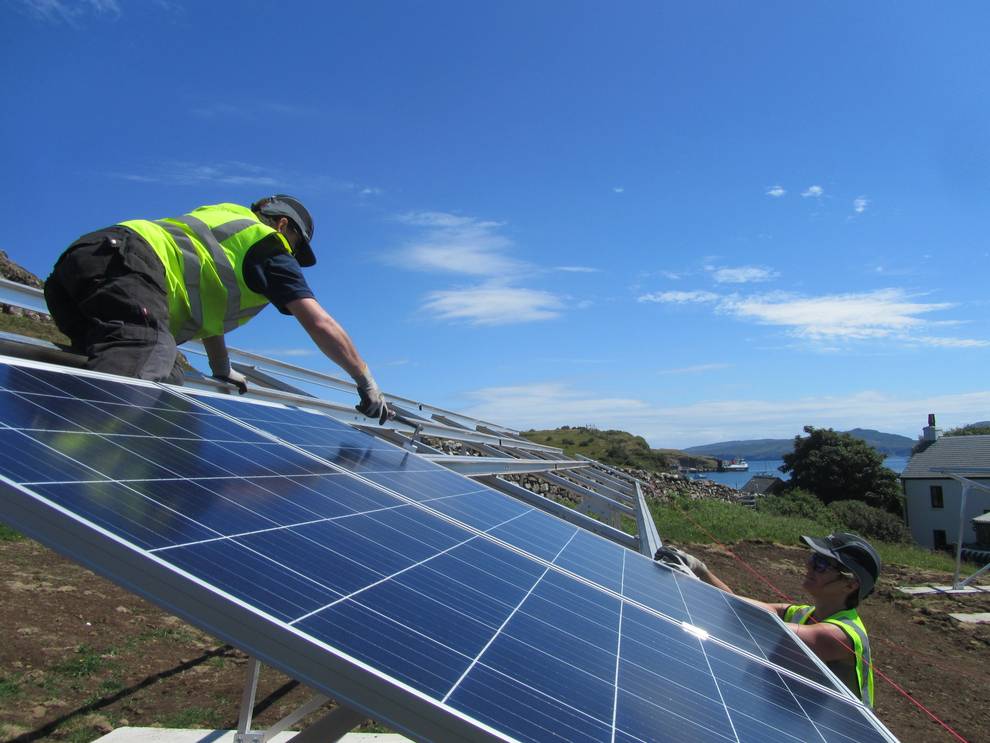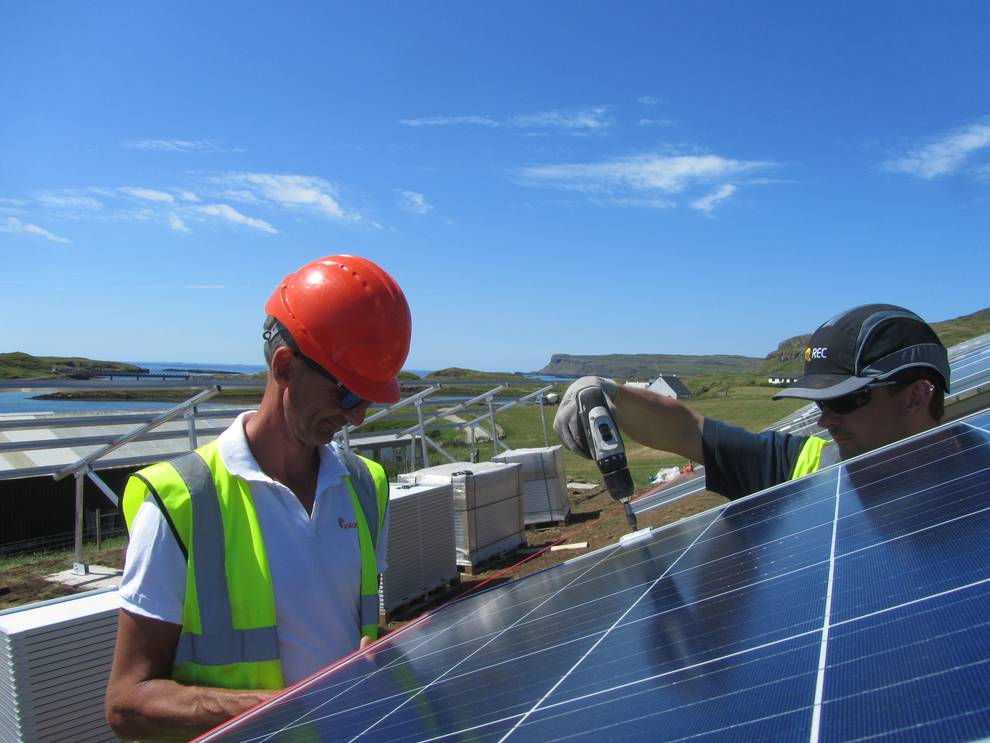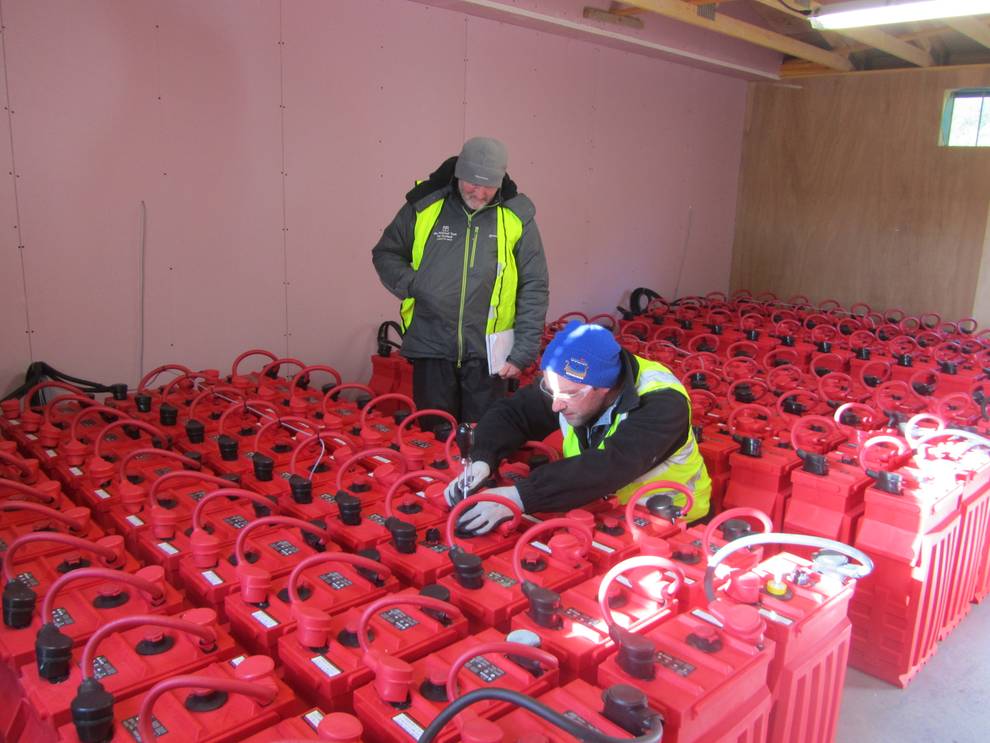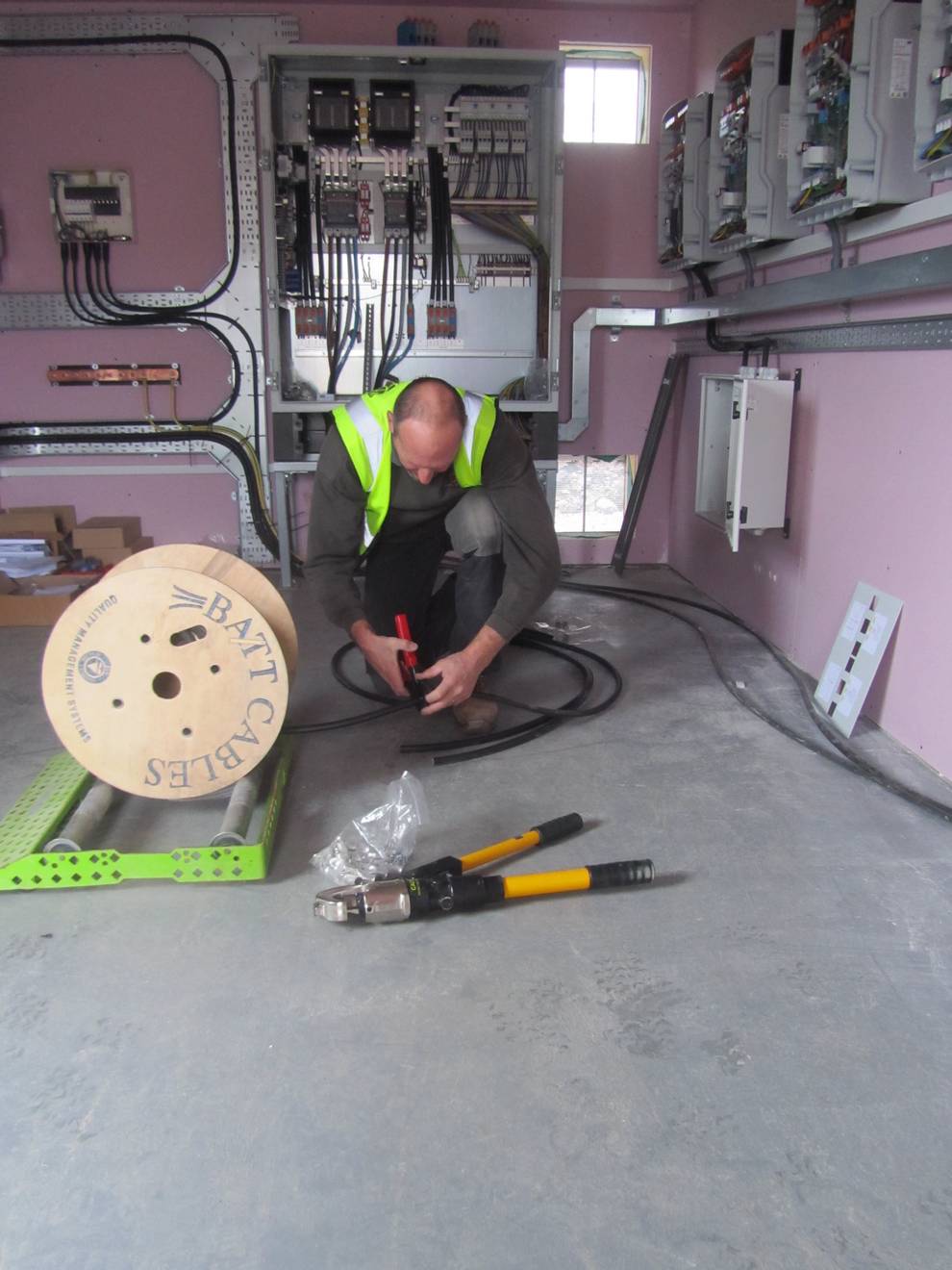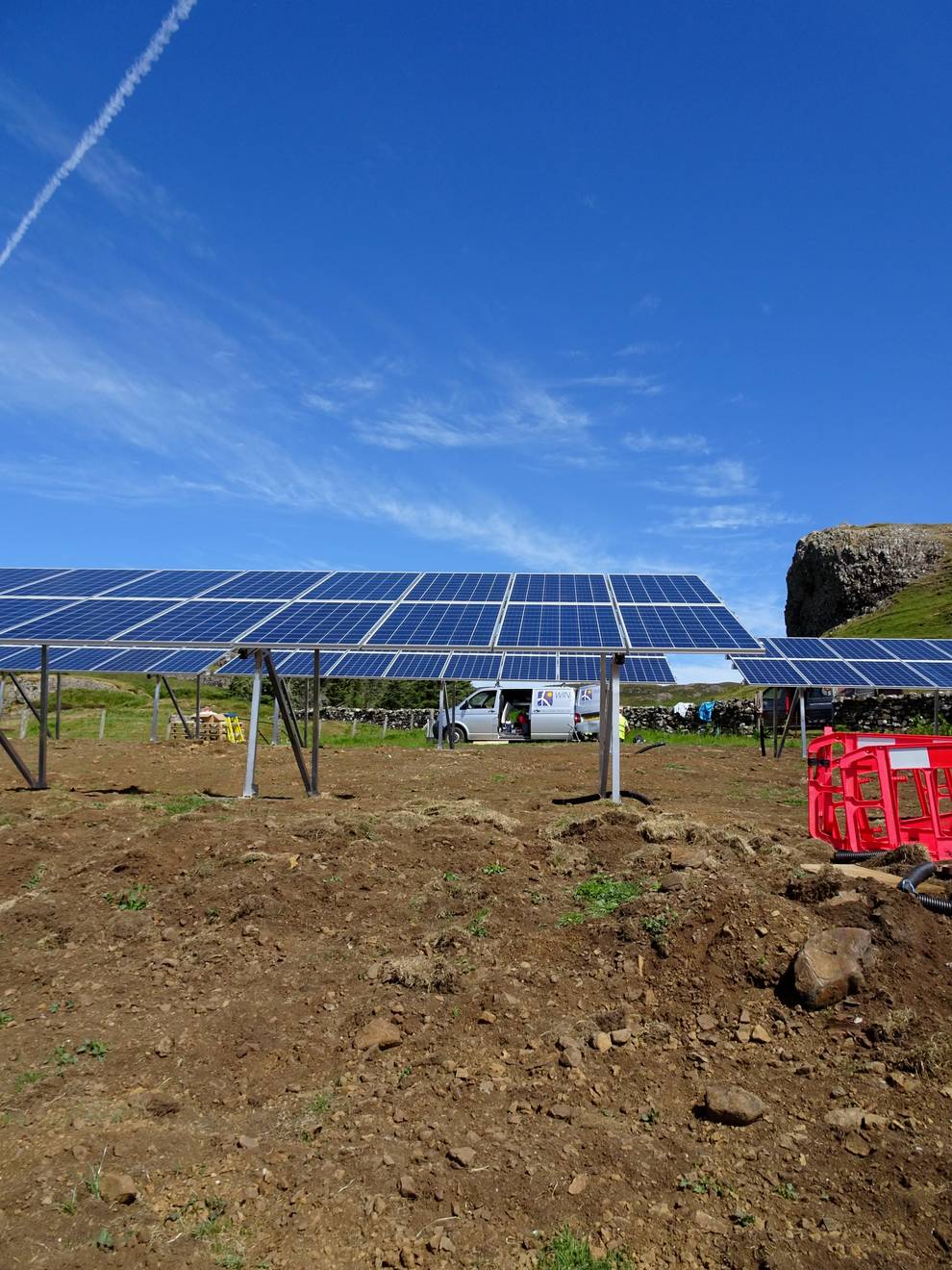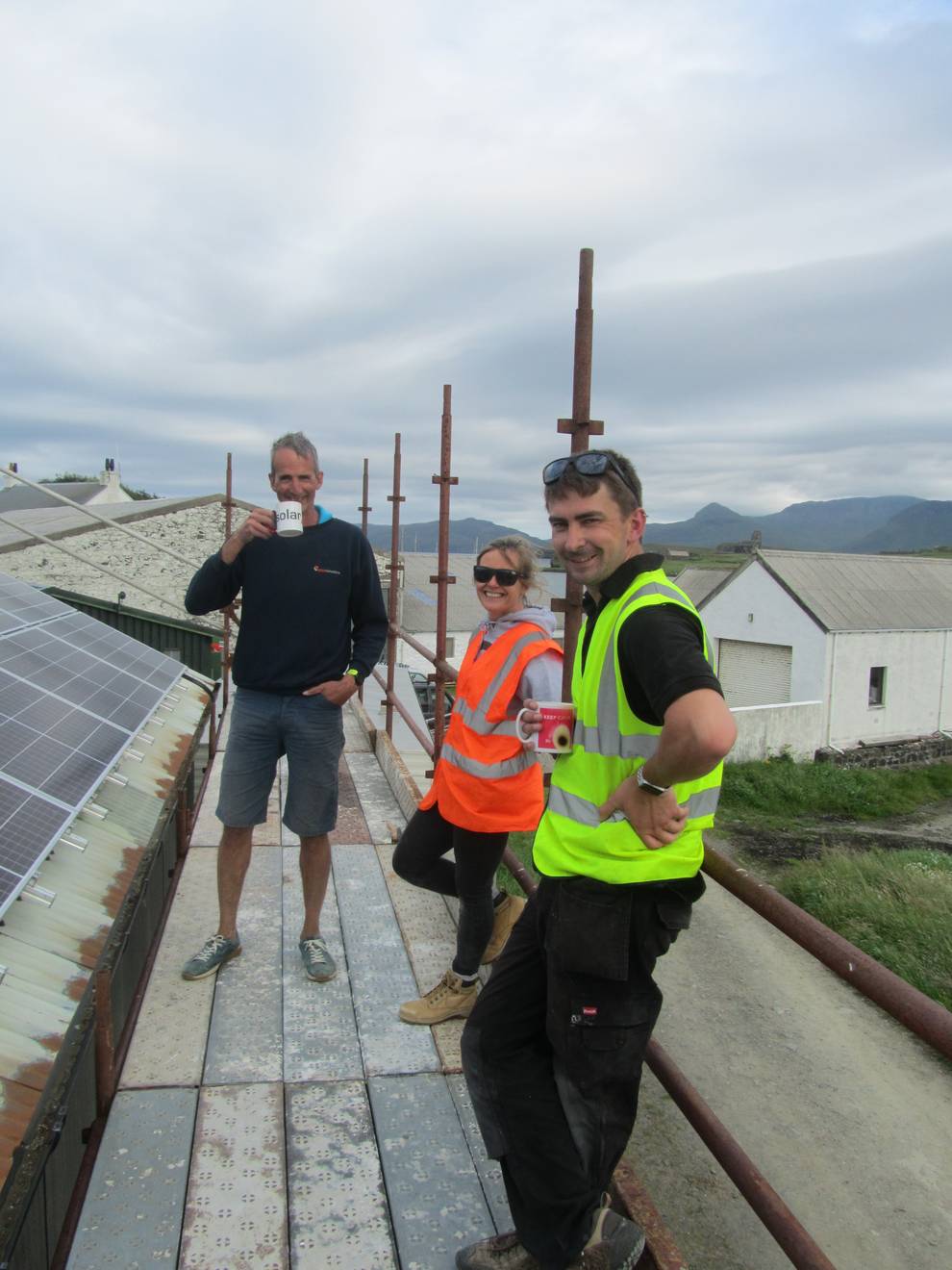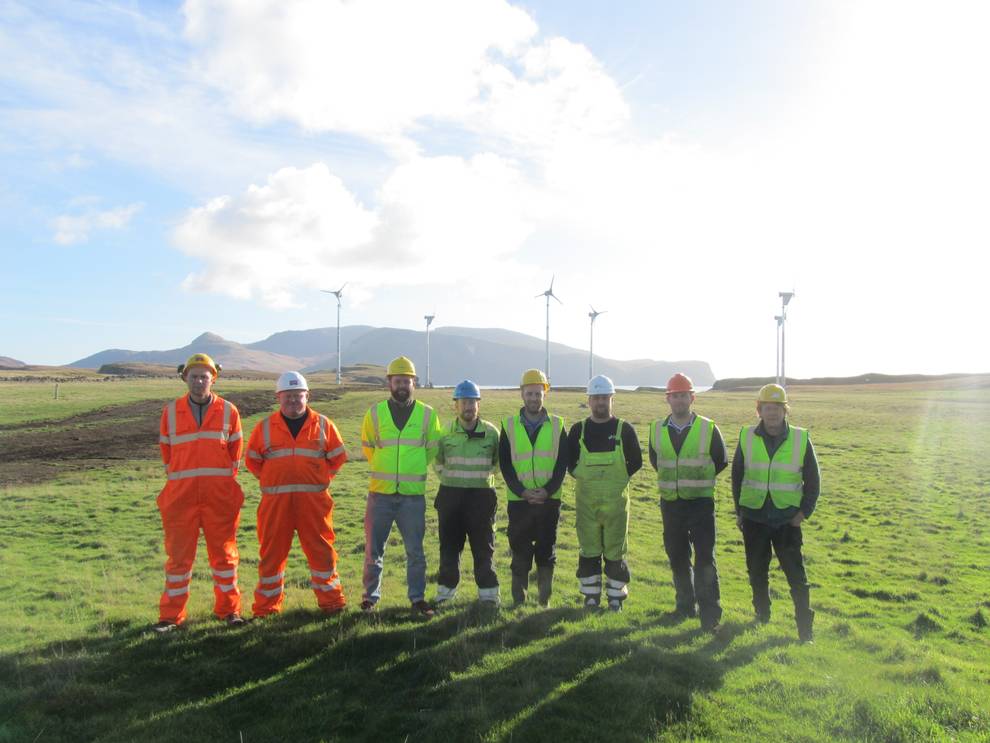 Isle of Canna system comprises: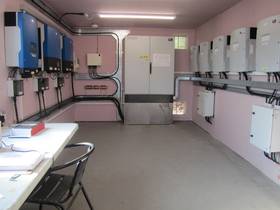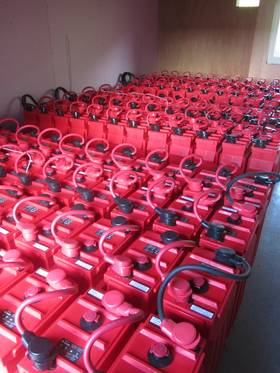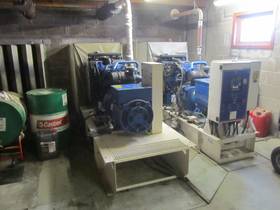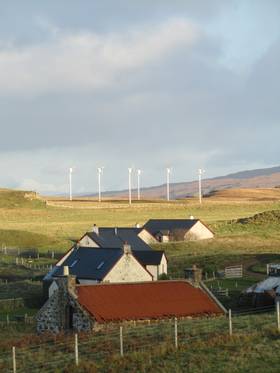 Three 3-phase battery/inverter clusters each with 3 x SI-80H-12 Sunny Island Inverters (9 inverters - 54kW total)
SMA MultiCluster Box -12 to marshal inverter cabling and to connect island loads and back-up generator
Three banks of 48 x Rolls RB-2OS33PS batteries (225kWh useable capacity total)
34.56kWp Ground Mount PV System made up of 128 x REC-270PE multi-crystalline PV modules ground mounted using 8 Schletter PVMax North frames and connected to 2 x SMA Sunny Tripower 20kW 3ph inverters
8.55kWp roof mounted PV system made up of 30 x REC-285TP2 PV modules connected to 1 x SMA Sunny Tripower 3ph 8kW inverter (added in 2019).
6 x 6kW SD wind turbines with SMA Windy Boy inverters (36kW total)
2 x 60kW back-up diesel generators (one used at a time)
Remote monitoring is enabled using an SMA Data Manager allowing us to view performance over the internet and adjust operating parameters remotely if needed.
**The system provides power for: **
Houses for 15 inhabitants
Cafe and shop
B&B visitor accommodation
Farm buildings and workshops
Primary School
Two churches
Harbour buildings