UK's First Grid Connected Solar Roof Tile PV System
Homerton Grove Adventure Playground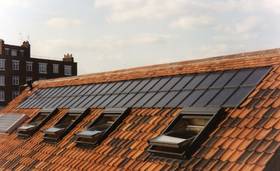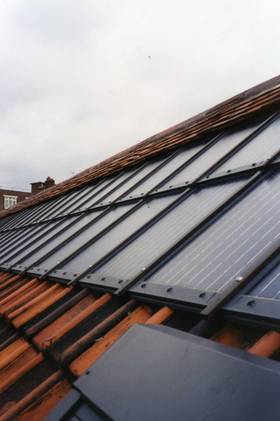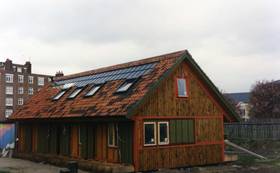 Funded by grant giving trusts and the national lottery, London's first solar powered building was built in 1995 at Homerton Grove Adventure Playground. Grid connected, it generates more solar electricity than it uses and relies on solar thermal for water and space heating. Extensive use of recycled materials all help reduce the embodied energy of this power station building. It was designed by Constructive Individuals and built from scratch over a period of four weeks in 1995 by trainers and volunteers.
The timber framed building is orientated to be South facing and is highly insulated. As far as possible only non-toxic materials were used in the construction. It was decided to incorporate renewable energy from the outset and although installation of a 2kW wind turbine was considered, photovoltaics were chosen as being more appropriate. The PV roof tiles provide an easy method of integrating the PV array with the roof.
To optimise output from the PV the roof was pitched at 40 degrees, with an air gap left behind the roof tiles and a ventilated ridge to ensure cooling. The Swiss roof tiles are designed to simply hang on conventional roof battens and be laid at the same time as the rest of the roof. The PV roof tiles are connected together by a cable with plug & socket, and fixed in place using cover strips. The PV tiles go over the clay tiles at the bottom and are below the tiles at the top - just like normal tiles! Copper flashings provide a waterproof seal at the array ends.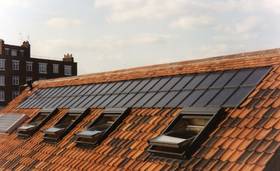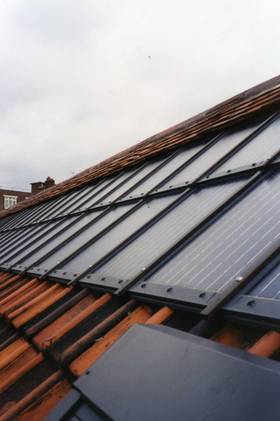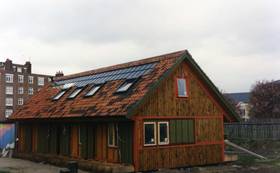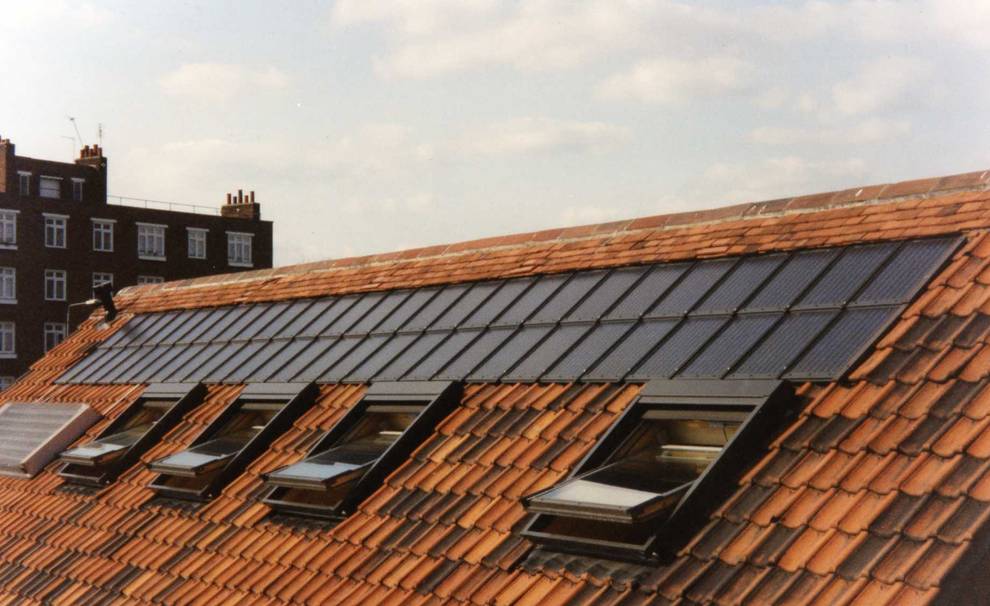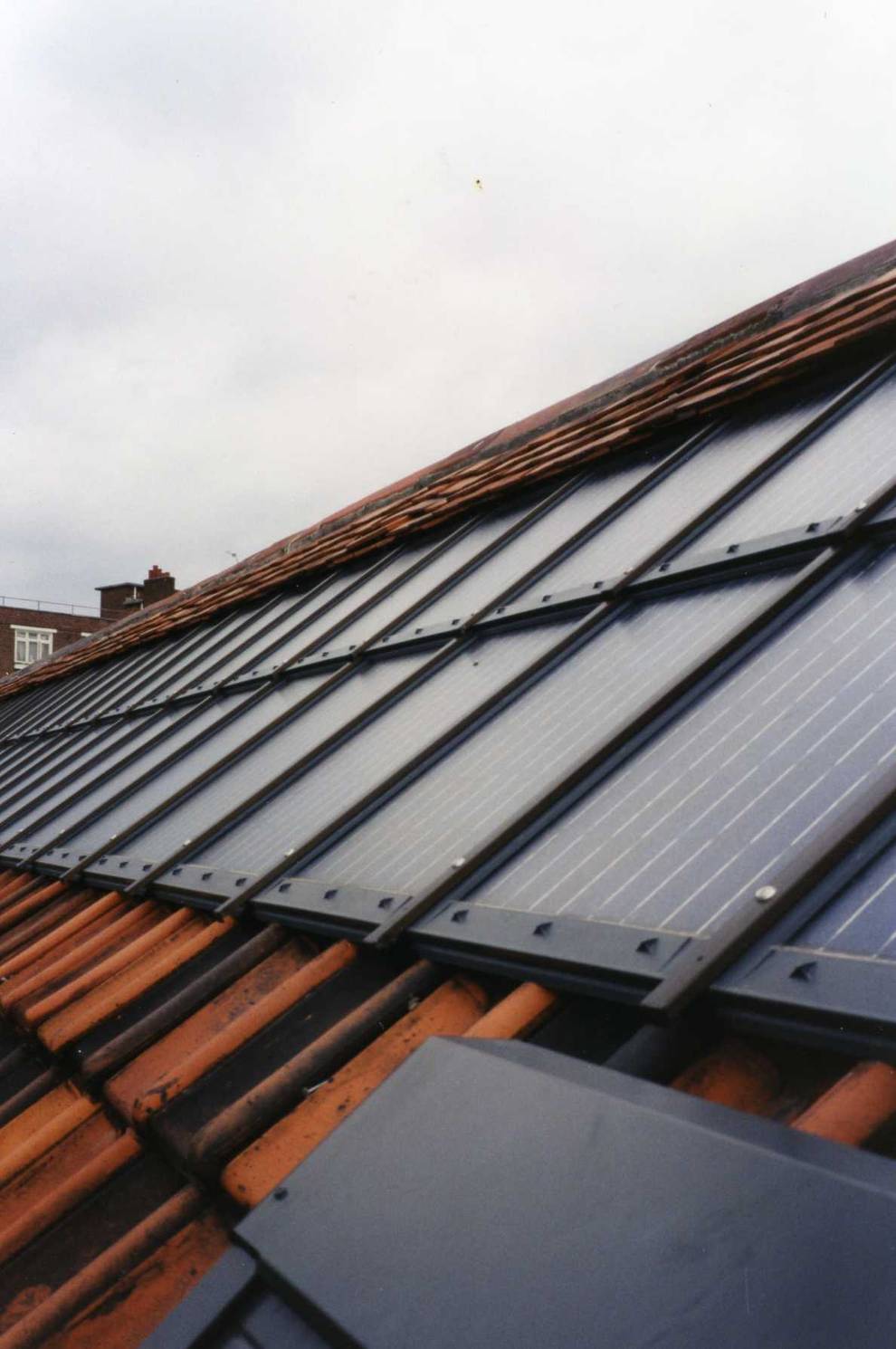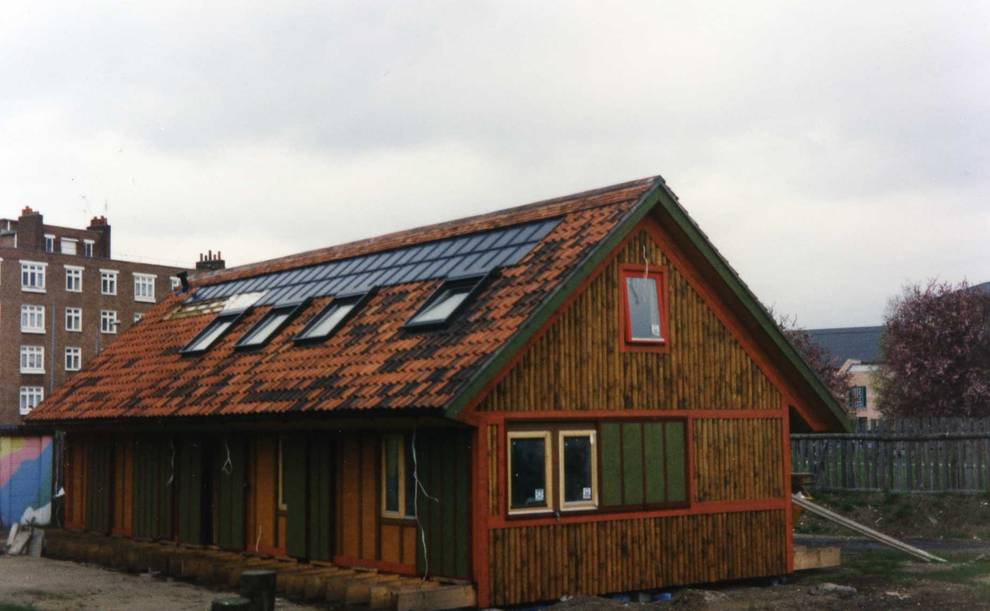 The PV System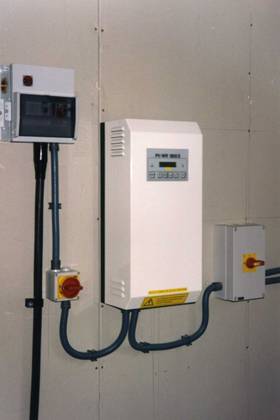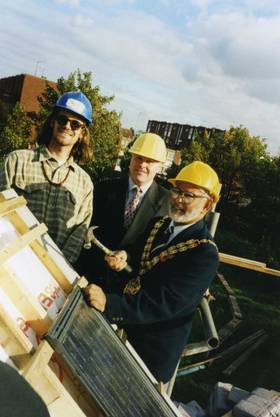 The 1.944kWp Photovoltaic Array consists of 54 of the 36Wp Newtec PV roof tiles connected in six series strings each of nine tiles. Positive and negative wiring is physically isolated by use of separate conduits, to eliminate possibility of contact with potentially dangerous DC voltages. The array output of ~120VDC is connected to an SMA PV-WR1800 1800W grid connected PV inverter which converts the DC to 230Vac and connects to the building's single phase consumer unit.
Power generated is first used within the building and any surplus exported to the grid. By the use of energy efficient appliances the aim is to be annually self sufficient in electricity. Approximately 1500kWh will be generated annually by the system.
All electrical power used for site tools etc. during construction was provided by 'Cyrus' the Greenpeace mobile solar generator. This uses a 2kW solar array, 100kWh battery store and 7.5kW & 15kW sine wave inverters.
The project provides an inspiration towards sustainable development, a building, built with sunshine, being powered by the sun from it's roof.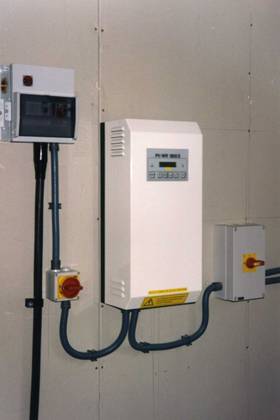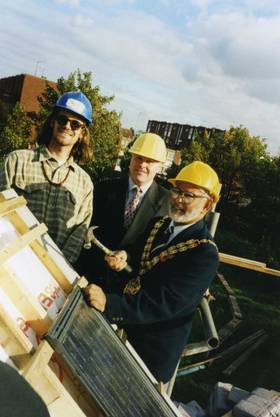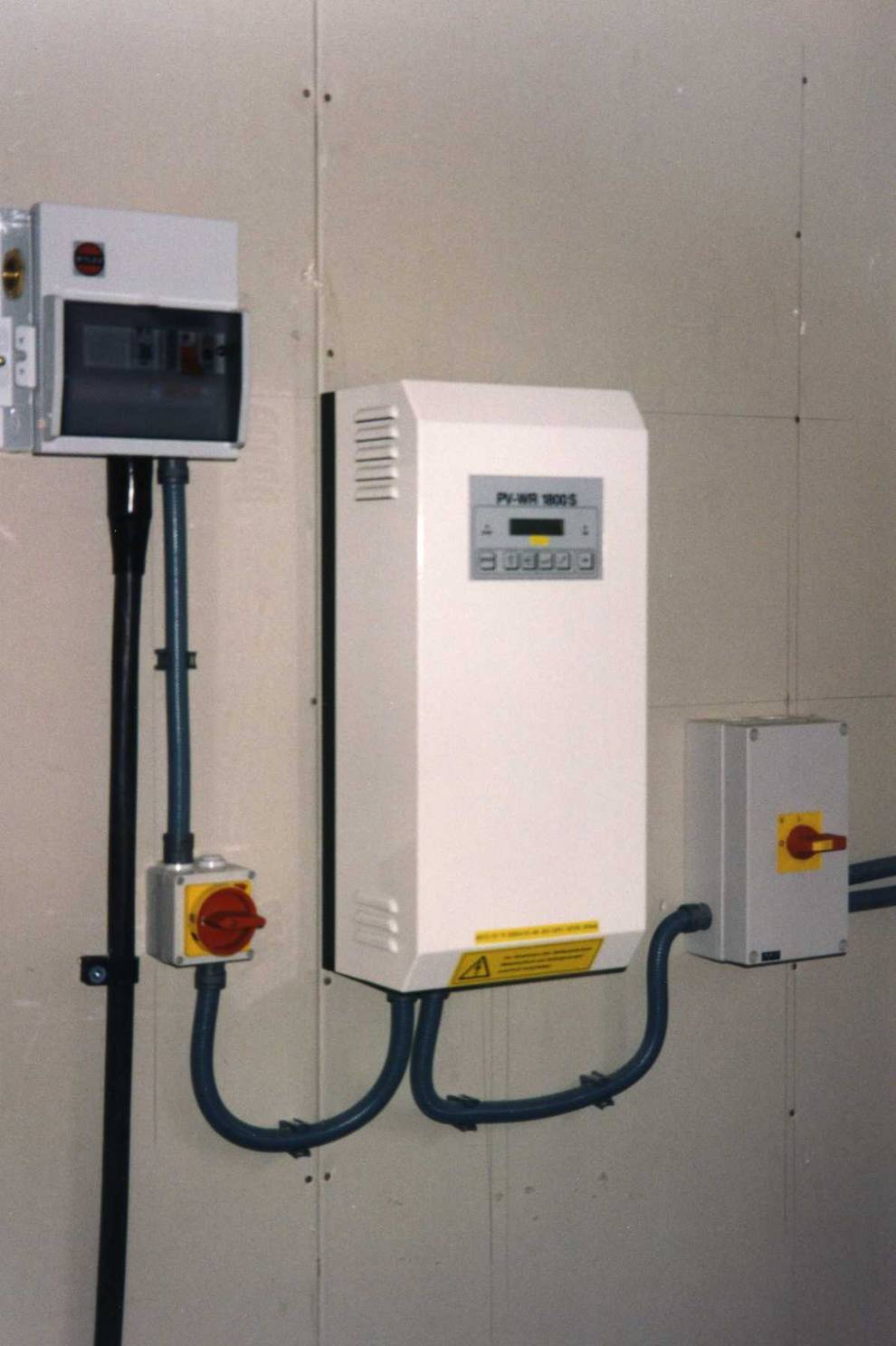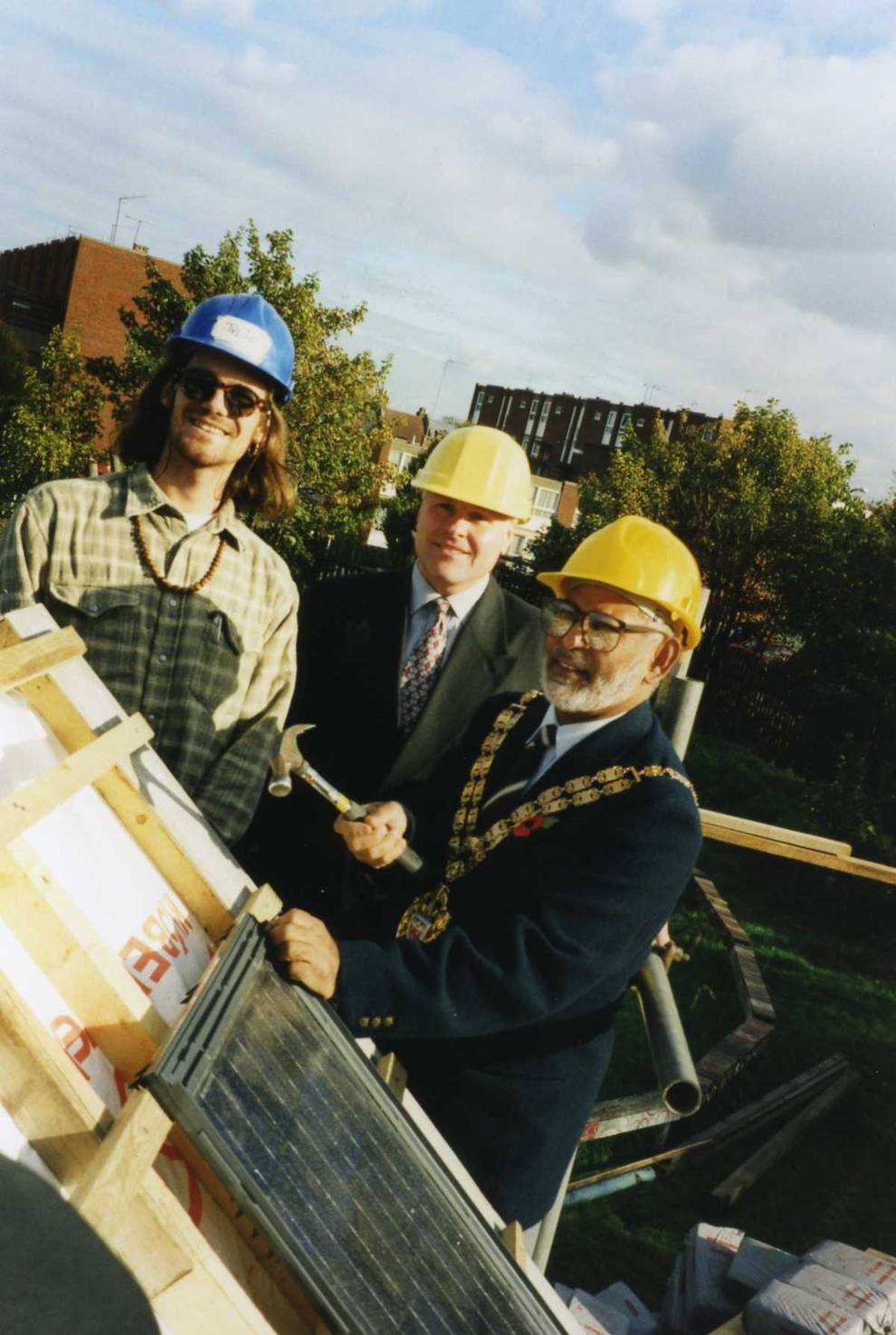 Update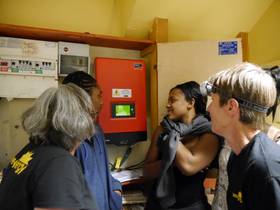 The Adventure Playground and the PV's are still going strong.
The original inverter was replaced in 2014 to a newer SMA model by local PV installers Athena Electrical.