Solar Panels and Chinese Forced Labour
15 Nov 23
Solar Panels and Chinese Forced Labour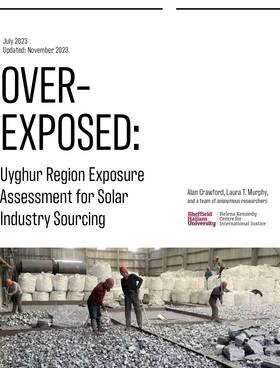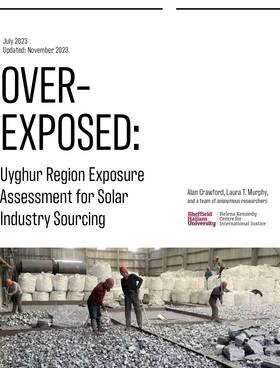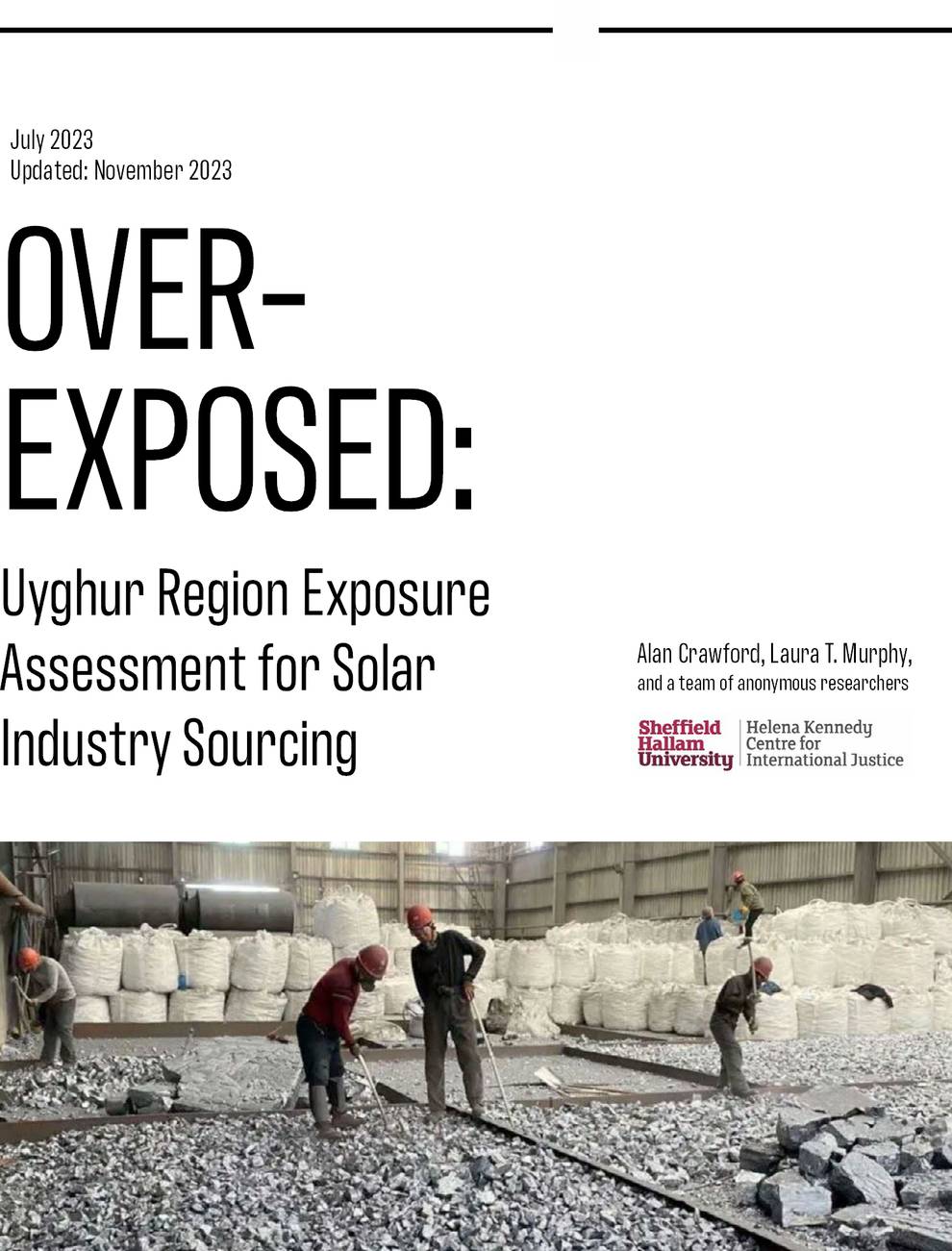 Meyer Burger
Meyer Burger's philosophy of integrated production of solar cells and solar modules, makes sustainability their number one priority with a commitment to reducing CO2 emissions, limiting energy and water consumption and promoting waste recycling. In 2020, 16402 MWh of electricity was produced with their own PV systems. Manufacturing is based in Germany - goods and services are procured from local manufacturers and European suppliers wherever possible to ensure transparency and to avoid CO2 emissions . Meyer Burger defines procurement as local if it takes place within the nation state in which the production site is located. These sources are supplemented by European and global suppliers. As a consequence of losing big parts of the solar value chain in Europe, they currently have to reach out to the remaining sources worldwide. In the context of forced labour allegations, they stated in 2021 that they hold guarantees from wafer suppliers that they use polysilicon from sustainable sources and operate without using raw material from the Xinjiang region in particular.
Conclusion from Sheffield Hallam Report:
"The XUAR exposure for all Meyer Burger modules is NONE (Unverifiable). According to corporate reports, all Meyer Burger modules produced in Germany use zero China-produced polysilicon and zero XUAR-produced MGS. Most of the polysilicon used in the wafers purchased by Meyer Burger is produced by Wacker (Germany)."
REC Solar
REC is committed to maintaining and improving systems and processes to avoid complicity in human rights violations related to their operations, supply chain, and products. They have in place a robust supplier qualification process and conduct periodic audits to ensure compliance with its requirements. REC have completed an initial review of all suppliers and there is no use of any polysilicon or other material from XUAR in REC's supply chain for the REC Alpha and REC TwinPeak 5 panels.
Conclusion from Sheffield Hallam Report:
"The REC Solar N-Peak and Alpha module product line was produced in Singapore from wafers produced exclusively with OCI and Wacker polysilicon in 2021. Assuming this remains unchanged in 2023, the XUAR exposure for REC Solar Alpha modules is NONE (Unverified).
The REC Solar TwinPeak 4 module product line was produced in Singapore in 2021 from p-type monocrystalline cells that have VERY HIGH XUAR exposure due to use of XUAR produced polysilicon. Assuming this remained unchanged for the modules left in stock after the line was discontinued, the XUAR exposure for REC Solar TwinPeak 4 is VERY HIGH.
REC Solar's apparent discontinuation of the TwinPeak 4 and the company's concentration on products that are free of XUAR inputs reflects a significant supply chain shift for the company."
Solarwatt
Solarwatt have signed up to a joint statement from SEUK which condemns and opposes any abuse of human rights, including forced labour, anywhere in the global supply chain.
Victron & Vikram
We have no information on these suppliers. However, since they are low cost panels it is possible they are affected. We are trying to find out more and investigating alternative manufacturers of small area modules.
2023 Report Assessments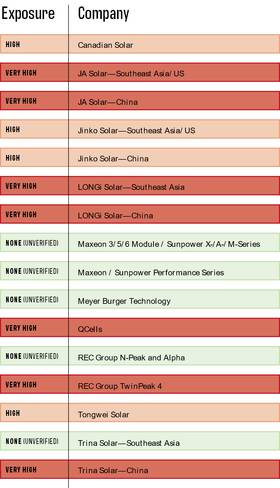 The 2023 report assessments indicate the extent to which a company or module is exposed to the Uyghur Region, meaning the heightened risk that a supply chain includes within it a Uyghur Region input, based on available sourcing disclosures.
An assessment of "VERY HIGH" indicates a product line is verified to be made with Uyghur Region inputs, while "NONE (Verified)" indicates that disclosures verify a supply chain to be entirely free of Uyghur Region inputs.
The vast majority of companies fall somewhere in the middle because companies do not provide enough information to verify that their supply chain is for certain exposed or free of Uyghur Region sourcing. In those cases, the report applies available data and expertise to assess the exposure of the product.
For each exposure assessment the report provides:
An overall assessment for the company
An assessment for individual product lines, where relevant
A summary of the evidence used in the assessment
A list of opportunities the company has to improve the assessment
An analysis of what is known about the company's supply chain(s) and a discussion of the predicates upon which exposure is identified where there are gaps in public sourcing information.