SolarEdge Three Phase Synergy Inverters

Regular price
Sale price
From £0.00
Unit price
per
Sale
Sold out
Select model
Variant
Price

SE50K-RW00IBNM4
SolarEdge 3ph 50kW Synergy Manager MC4, DC SPD(D)

Regular price

Sale price

£812.52

Unit price

per

SE66.6K-RW00IBNM4
SolarEdge 3ph 66.6kW Synergy Manager MC4, DC SPD

Regular price

Sale price

£1,350.00

Unit price

per

SE66.6K-RW00IBNQ4
SolarEdge 3ph 66.6kW Synergy Manager MC4, DCD, DC SPD

Regular price

Sale price

£1,581.03

Unit price

per

SE90K-RW00IBNM4
SolarEdge 3ph 90kW Synergy Manager MC4, DC SPD

Regular price

Sale price

£0.00

Unit price

per

SE100K-RW00IBNC4
SolarEdge 3ph 100kW Synergy Manager MC4,DCD,DC SPD,25A Fuses

Regular price

Sale price

£2,044.63

Unit price

per

SE100K-RW00IBNM4
SolarEdge 3ph 100kW Synergy Manager MC4, DC SPD

Regular price

Sale price

£1,630.00

Unit price

per

SESUK-RW00INNN4
SolarEdge Synergy Unit (w/o RSD)

Regular price

Sale price

£1,419.10

Unit price

per

SESUK-RWR0INNN4
SolarEdge Synergy Unit (with RSD)

Regular price

Sale price

£1,444.81

Unit price

per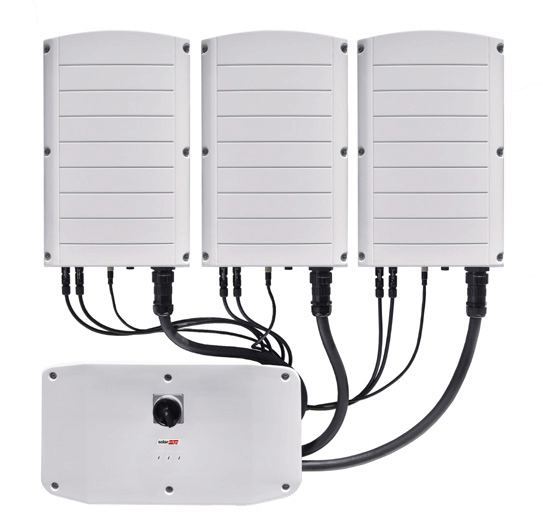 SolarEdge Three Phase Synergy Inverters
SolarEdge Three Phase Synergy Inverters
These inverters is made up of a Synergy Manager which connects to two or three Synergy Units, making it as easy to install and service as a string inverter. AC wiring and commissioning however, are as easy as working with central inverters.
The Synergy Manager and Synergy Units need to be ordered separately.

The 50 and 66.6kW Synergy Managers needs two Synergy Units
The 100kW Synergy Manager needs three Synergy Units
The inverter units are packaged and mounted individually and come with plug-and-play cables for easy connection.
They are wall mounted for a minimal footprint and allow installation by just two technicians, with no cranes, forklifts or other special tools. In addition, each unit continues to work independently in the event that the other units are offline for higher uptime.
Features:
Pre-commissioning feature for automated validation of system components and wiring during the site installation process and prior to grid connection
Easy 2-person installation with lightweight, modular design (each inverter consists of 2 or 3 Synergy Units and one Synergy Manager)
Independent operation of each Synergy Unit enables higher uptime and easy serviceability
Built-in thermal sensors detect faulty wiring ensuring enhanced protection and safety
Built-in arc fault protection and optional rapid shutdown
Built-in PID mitigation for maximized system performance
Monitored and field-replaceable surge protection devices, to better withstand surges caused by lightning or other events: integrated RS485 and Type 2 DC SPDs
Optional integrated DC safety switch (66.6 & 100kW) eliminates the need for external DC isolators
Built-in module-level monitoring with Ethernet or cellular communication for full system visibility
Synergy Units with or without RSD - Rapid Shutdown (not currently required in UK)
12 year warranty
Good to know
Technical Specifications

| SKU | SE50K-RW00IBNM4 | SE66.6K-RW00IBNM4 | SE66.6K-RW00IBNQ4 | SE90K-RW00IBNM4 | SE100K-RW00IBNC4 | SE100K-RW00IBNM4 | SESUK-RW00INNN4 | SESUK-RWR0INNN4 |
| --- | --- | --- | --- | --- | --- | --- | --- | --- |
| Power Rating | 50000W | 66600W | 66600W | 90000W | 100000W | 100000W | - | - |
| Phases | Three phase | Three phase | Three phase | Three phase | Three phase | Three phase | Three phase | Three phase |
| Weight (kg) | 32 | 19 | 32 | 32 | 32 | 32 | 32 | 32 |
| IP Rating | IP65 | IP65 | IP65 | IP65 | IP65 | IP65 | IP65 | IP65 |
| On Grid / Off Grid | On Grid | On Grid | On Grid | On Grid | On Grid | On Grid | On Grid | On Grid |
| Intrastat Commodity Code | 85044088 | 85044088 | 85044088 | 85044088 | 85044088 | 85044088 | 85044088 | 85044088 |
*see manufacturer's documentation for further information