Victron Phoenix Smart Inverters

Regular price
From £622.69
Regular price
Sale price
From £622.69
Unit price
per
Sale
Sold out
Powerful and reliable inverters that include built-in Bluetooth to enable full configuration using a tablet or smartphone
Select model
Variant
Price

VPS-12/1600
Victron Phoenix 1600VA, 12V inverter 230V Smart

Regular price

Sale price

£622.69

Unit price

per

VPS-12/2000
Victron Phoenix 2000VA, 12V inverter 230V Smart

Regular price

Sale price

£725.13

Unit price

per

VPS-12/3000
Victron Phoenix 3000VA, 12V inverter 230V Smart

Regular price

Sale price

£851.62

Unit price

per

VPS-24/1600
Victron Phoenix 1600VA, 24V inverter 230V Smart

Regular price

Sale price

£622.69

Unit price

per

VPS-24/2000
Victron Phoenix 2000VA, 24V inverter 230V Smart

Regular price

Sale price

£683.76

Unit price

per

VPS-24/3000
Victron Phoenix 3000VA, 24V inverter 230V Smart

Regular price

Sale price

£851.62

Unit price

per

VPS-48/1600
Victron Phoenix 1600VA, 48V inverter 230V Smart

Regular price

Sale price

£622.69

Unit price

per

VPS-48/2000
Victron Phoenix 2000VA, 48V inverter 230V Smart

Regular price

Sale price

£703.75

Unit price

per

VPS-48/3000
Victron Phoenix 3000VA, 48V inverter 230V Smart

Regular price

Sale price

£851.62

Unit price

per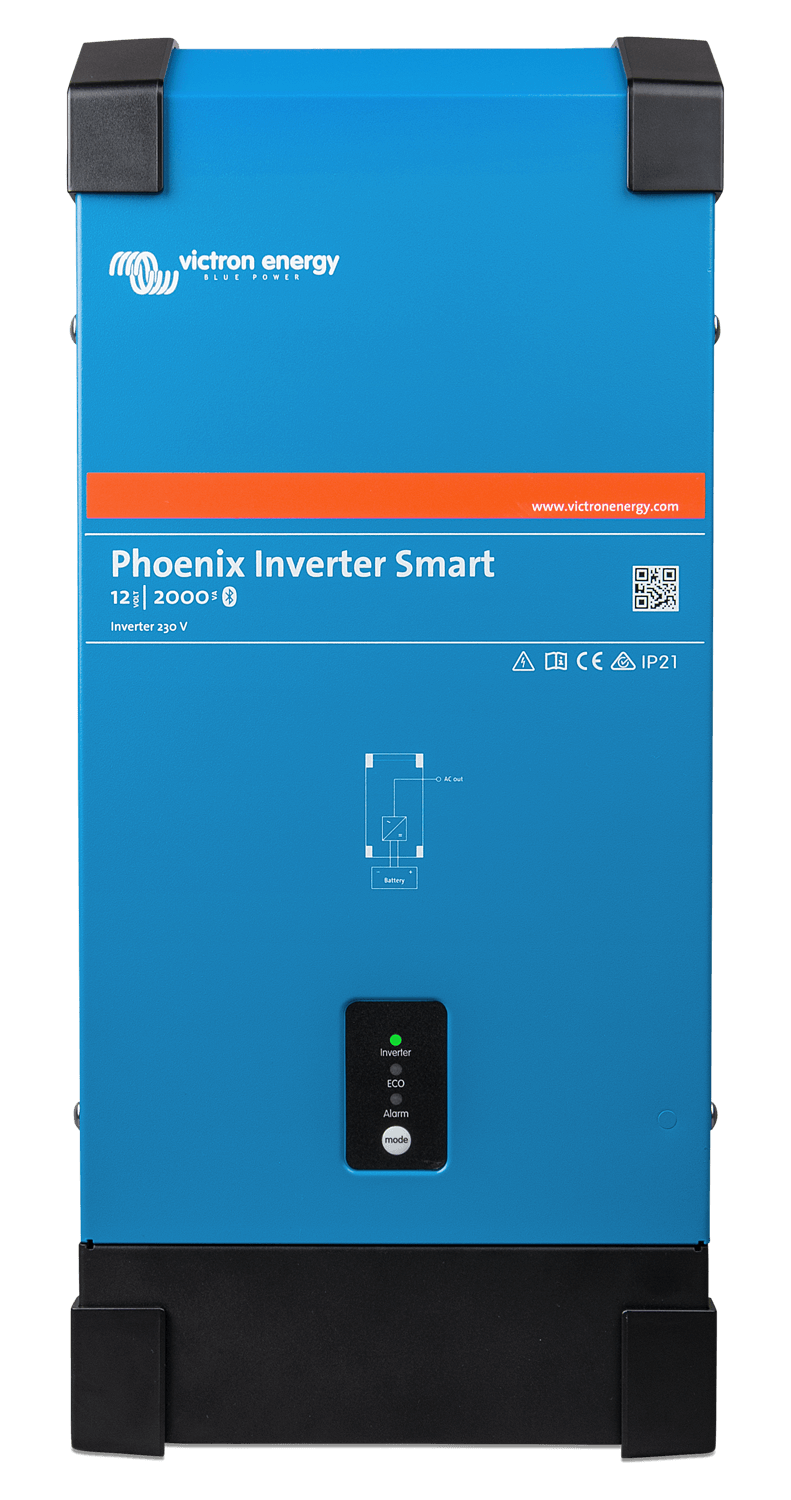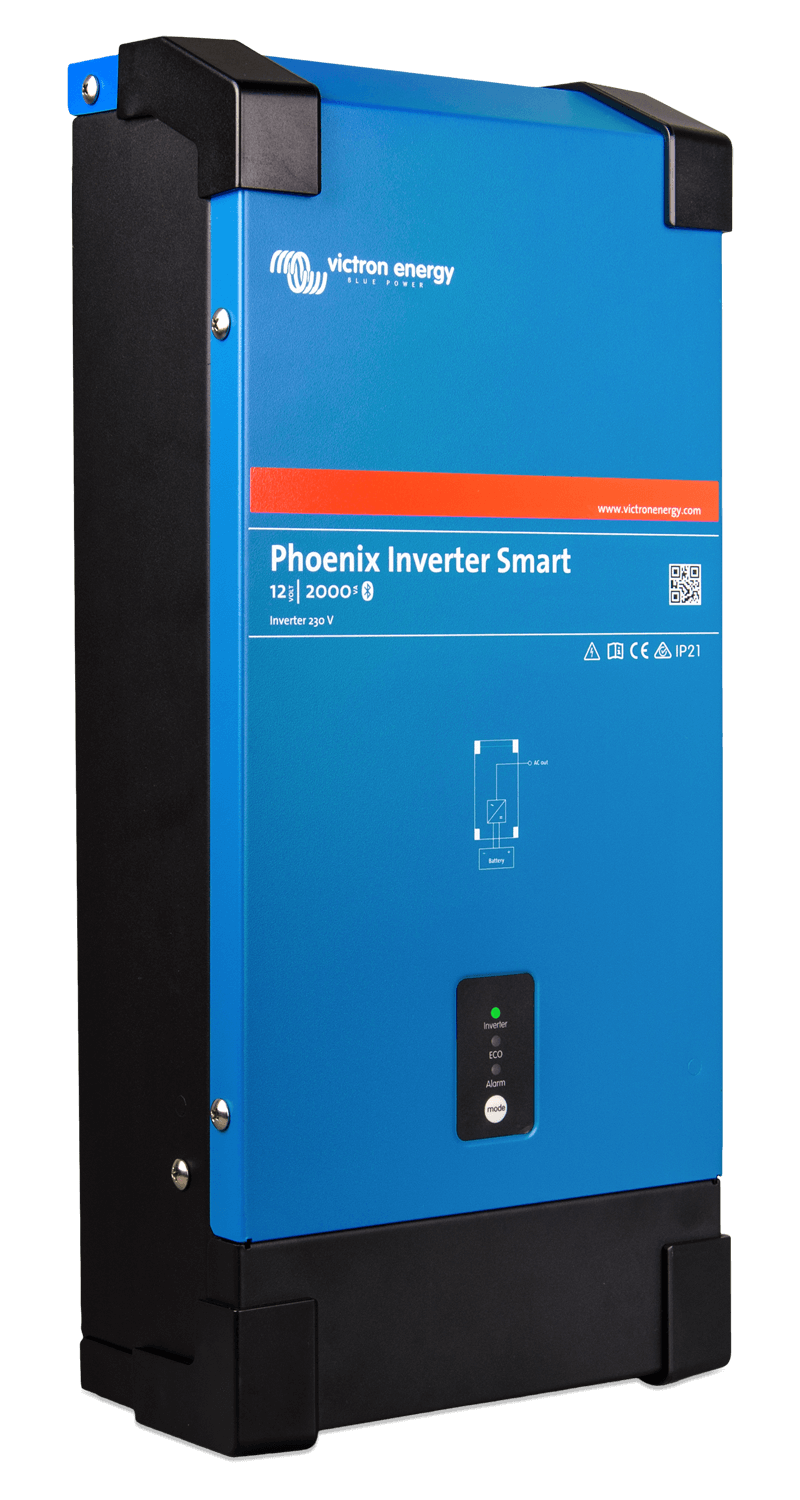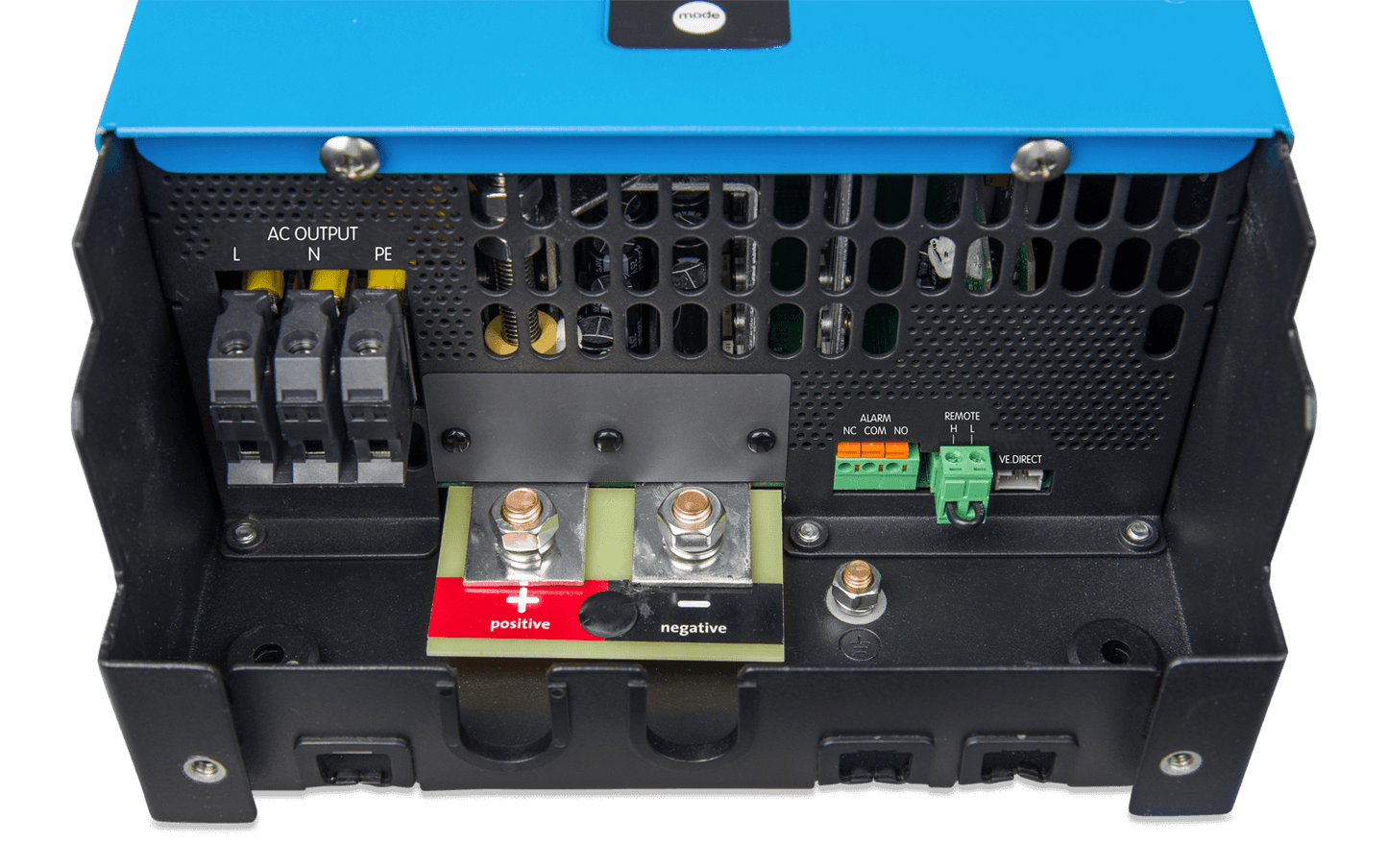 Victron Phoenix Smart Inverters
Powerful and reliable inverters that include built-in Bluetooth to enable full configuration using a tablet or smartphone
Features:
Low battery voltage alarm
Low battery voltage cut-off and restart levels
Dynamic cut-off: load dependent cut-off level
Output voltage: 210 - 245V
Frequency: 50 Hz or 60 Hz
ECO mode on/off and ECO mode sense level
Alarm relay
Monitoring:
In- and output voltage, load and alarms
Proven reliability
Inverters are short circuit proof and protected against overheating, whether due to overload or high ambient temperature.
High start-up power
Needed to start loads such as power converters for LED lamps, halogen lamps or electric tools.
ECO mode
When in ECO mode, the inverter will switch to standby when the load decreases below a preset value. Once in standby the inverter will switch on for a short period every 2,5 seconds (adjustable). If the load exceeds the preset level, the inverter will remain on.
Remote on/off
A remote on/off switch or relay contact can be connected to a two pole connector. Alternatively, the H terminal (left) of the two pole connector can be switched to battery plus, or the L terminal (right) of the two pole connector can be switched to battery minus (or the chassis of a vehicle, for example).
VE.Direct communication port
The VE.Direct port can be connected to a computer (VE.Direct to USB interface cable needed) to configure and monitor the same parameters.
Warranty: Five Years
Good to know
Technical Specifications

| SKU | VPS-12/1600 | VPS-12/2000 | VPS-12/3000 | VPS-24/1600 | VPS-24/2000 | VPS-24/3000 | VPS-48/1600 | VPS-48/2000 | VPS-48/3000 |
| --- | --- | --- | --- | --- | --- | --- | --- | --- | --- |
| Power Rating | 1300W | 1600W | 2400W | 1300W | 1600W | 2400W | 1300W | 1600W | 2400W |
| System Battery Voltage | 12V | 12V | 12V | 24V | 24V | 24V | 48V | 48V | 48V |
| Phases | Single phase | Single phase | Single phase | Single phase | Single phase | Single phase | Single phase | Single phase | Single phase |
| Connectivity | Bluetooth, VE.Direct | Bluetooth, VE.Direct | Bluetooth, VE.Direct | Bluetooth, VE.Direct | Bluetooth, VE.Direct | Bluetooth, VE.Direct | Bluetooth, VE.Direct | Bluetooth, VE.Direct | Bluetooth, VE.Direct |
| Connection | Screw Terminals (AC), M8 (battery) | Screw Terminals (AC), M8 (battery) | Screw Terminals (AC), M8 (battery) | Screw Terminals (AC), M8 (battery) | Screw Terminals (AC), M8 (battery) | Screw Terminals (AC), M8 (battery) | Screw Terminals (AC), M8 (battery) | Screw Terminals (AC), M8 (battery) | Screw Terminals (AC), M8 (battery) |
| Height | 485 | 485 | 553 | 485 | 485 | 485 | 485 | 485 | 485 |
| Width | 219 | 219 | 285 | 219 | 219 | 285 | 219 | 219 | 285 |
| Depth | 125 | 125 | 150 | 125 | 125 | 150 | 125 | 125 | 150 |
| Weight (kg) | 14.05 | 14.7 | 21.65 | 13.79 | 14.7 | 20.65 | 14 | 14.65 | 20.7 |
| Packaging Height | 240 | 240 | 620 | 240 | 240 | 570 | 240 | 240 | 570 |
| Packaging Width | 560 | 560 | 350 | 560 | 560 | 360 | 560 | 560 | 360 |
| Packaging Depth | 300 | 300 | 250 | 300 | 300 | 250 | 300 | 300 | 250 |
| Warranty | 5 | 5 | 5 | 5 | 5 | 5 | 5 | 5 | 5 |
| IP Rating | IP21 | IP21 | IP21 | IP21 | IP21 | IP21 | IP21 | IP21 | IP21 |
| On Grid / Off Grid | Off Grid | Off Grid | Off Grid | Off Grid | Off Grid | Off Grid | Off Grid | Off Grid | Off Grid |
| Lithium Compatibility | Yes* | Yes* | Yes* | Yes* | Yes* | Yes* | Yes* | Yes* | Yes* |
| Intrastat Commodity Code | 85044085 | 85044085 | 85044085 | 85044085 | 85044085 | 85044085 | 85044085 | 85044085 | 85044085 |
*see manufacturer's documentation for further information